Coronation Street's Kate Ford: Tracy Barlow won't stop Abi going to jail if it means saving herself!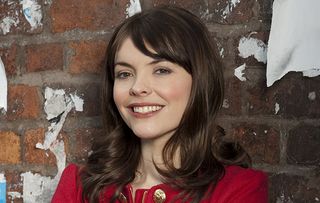 Toxic Tracy frames Abi!
Coronation Street star Kate Ford has revealed that Tracy Barlow – sorry McDonald! – feels guilty over landing Abi Franklin in trouble, but her first priority is herself!
Tracy returns from her Moroccan honeymoon next week without Steve - she's nicked his passport for bedding Leanne Battersby and abandoned him! – and is shocked to hear about how she caused the crash.
The florist, you'll recall, fiddled with Michelle's motor to get Abi into trouble; wrongly believing at the time that the mechanic was Steve's "other woman". If the police find out about her spot of sabotage, she'll be banged up quicker than you can say "Prisoner: Cell Block H". She's further worried when the cops arrive to question Abi and Kate Ford says her alter ego's instinct is to protect herself.
"When Tracy tampered with Michelle's car, it was a heat-of-the-moment thing; she was just lashing out," she says.
"But this moment of madness has spiralled out of control, and now she's got a huge mess to deal with. She feels awful about Abi, but her priority is covering her own back."
[Check out the latest Coronation Street spoilers]
As Abi is carted away, Tracy quickly forms a plan, and discreetly pockets the mechanic's wallet and keys. What is she up to now?
All becomes clear when Abi urges the police to view CCTV footage from the garage, so she can prove her innocence. When they ask Kevin to hand over the laptop, he realises that it's missing. Yep, Tracy has stolen it, so that no one will see her handiwork.
Abi's beside herself, especially when the police suggest that she was in cahoots with Ronan, and sabotaged Michelle's car in return for drugs. And, when she returns to the street and realises that Kevin thinks she's guilty, she loses her temper.
Will innocent Abi do time for Tracy's twisted crime?
Coronation Street continues on ITV.
Get the latest updates, reviews and unmissable series to watch and more!
Thank you for signing up to Whattowatch. You will receive a verification email shortly.
There was a problem. Please refresh the page and try again.