Corrie's Debbie Rush – New Year, new look, new love!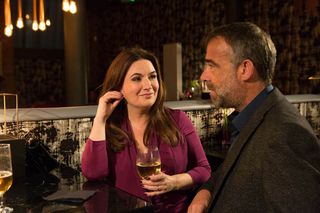 There was a time when TV Times thought Anna Windass's furrowed brow and scowl were permanent parts of Corrie. How things have changed! Debbie Rush gives us the inside scoop on Anna's New Year transformation...
Did you see Anna's transformation coming?
"I don't know where it has come from, but the writers obviously saw something, and I always trust what they do. I think Anna was ready to get her glad rags on, and there is a lot of story potential in getting Anna and Kevin connected with Sally and Tim."
Do you ever feel exposed in some of her more figure-hugging outfits?
"I used to be able to hide behind her big cardies! Now that I am wearing something different you can see what I really look like and there is nothing I can do about that. All women get dressed up from time to time, no matter who they are, where they work or how many children they have and this portrayal of her is a little more honest."
How would you describe her dress code?
"Her style is a little bit Lorraine Kelly and Loose Women as those are the people she admires on the TV. The trouble is, Anna never gets it quite right. She is the type of woman who makes an effort when there is a new man in her life, but then slips back because she is working too hard."
We think the new glam Anna is a foxy minx! Clearly Kevin Webster agrees in his decision to go public about their relationship…
"Anna is nervous about Sally finding out, and I can tell you that there are a few Benny Hill moments to come which I hope the audience find funny!"
But Owen was the love of your character's life. Has that changed for good?
"I don't think she is over him. She was madly in love with him, but they just kept getting it wrong all the time. People ask me if he is going to come back, but I don't know what is going to happen. As long as I am getting quality drama to do, I am happy."
Were you nervous about canoodling with a new co-star?
"Oh no, I've kissed loads of men – in the course of my work! I hadn't actually worked with Michael Le Vell before, but we knew each other and he is great to work with. There are times in this job where you have to kiss somebody you met 10 minutes ago!"
Do you mind?
"I don't mind it at all, but if you asked me to strip off, I might give you a different answer. Thankfully, the show is on at teatime so there's none of that."
Anna is all smiles now, but there must be a storm approaching, what with Pat Phelan turning up as one of Kevin's new labourers?
"Anna is not happy about him showing up. As far as she is concerned, what happened between them was consensual rape and he could threaten everything all over again, just when she has finally got her life right. Honest to God, I was absolutely thrilled when I heard he was coming back. I knew there would be repercussions for Anna and that is really exciting."
Do you still enjoy working on Corrie?
"As you've probably guessed, I love my job. I thrive off the big stories – it's what gets me up in the morning. Yes, it can be tiring. At the moment, I have some very heavy scenes coming up, and I've been spending my weekends learning lines for the last month or so! But at the end of the day, my job is the icing on the cake. What matters most and what comes first are my family."
Are you and Anna alike?
"We are poles apart! Although, and I hate to say this as I don't want to come across as one of them women, but I am a bit of a domestic goddess like her. I am a good cook, and I am very tidy everywhere – apart from the wardrobes. However, if anybody from my family dares to disagree, they'll be sorry!"
Get the latest updates, reviews and unmissable series to watch and more!
Thank you for signing up to Whattowatch. You will receive a verification email shortly.
There was a problem. Please refresh the page and try again.