Countryfile's Ellie Harrison: I was doing office admin when I got my big break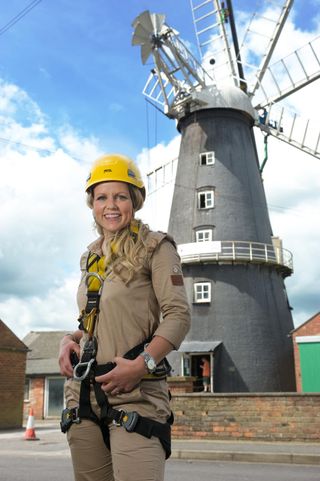 Countryfile presenter Ellie Harrison (opens in new tab) on why she has Michaela Strachan, Clint Eastwood and office admin to thank for her brilliant career hosting the BBC1 Sunday night staple...
On this week's Countryfile, you're helping with restoring Heckington Windmill, removing its old, rotten sails. Can you tell us about that?
"It's slightly precarious up there! Each of the new sails took 100 hours to make and each one weighs a ton. It will take two days to take all the old ones off."
Why do you think Countryfile has become such a success?
"I think it engages people because it's a very picture-rich format. It's also on a Sunday evening when people are sitting down and relaxing, so you've got to give credit to its position in the schedules as well. Someone described it as a warm bath, which sounds a little insipid to me, but I suppose it's a good thing. Rather that than a cold bath!"
You've been on the show for over four years…
"It doesn't feel like I've been on the show for that long. The subject matter is massively enjoyable."
How do you manage to fit working on Countryfile around your family life (Ellies has a fiancé Matt Goodman and two daughters, four-year-old Red and three-year-old Lux)?
"The show is filmed over two days, so with a family it's nice to have quite a lot of home time because the children will soon start school and then they'll be gone."
Are your children into wildlife?
"Yes. I'm not pushing them too hard because I don't want them to get sick of wildlife, but I find creepy crawlies are the best way in. Children find creepy crawlies fascinating because they get to handle them and they're freaky and wonderful."
Where did your own love of wildlife come from?
"As a child we lived in a very rural spot in the Cotswolds, so there was very little else around us but nature. But it really became zoological love when I started going out with a guy who was studying zoology. His dad had been in the Clint Eastwood film White Hunter Black Heart in Zimbabwe, so he had contacts out there and we spent quite a bit of time there. And there's nothing that gets you into wildlife more than the big charismatic mammals of Africa."
And you got your big break after landing an admin job at Channel 5…
"Michaela Strachan was presenting a wildlife show for children [Michaela's Wild Challenge], but because she was pregnant she couldn't do the whole series. So, I was asked if I could do a screen test for the job by the controller of children's TV, a lovely guy called Nick Wilson, who was unusual in the sense that he didn't want to choose an already established presenter and was quite happy finding someone who was just sat outside his office. I had to do this screen test in Richmond and pretend there were elephants behind me. Oh it was awful – I hope that tape is long since dead!"
And now you're soon starting work on a new BBC1 series, Secret Britain...
"We're going to start filming that in a couple of weeks. We're not necessarily going to be looking for secret locations, because I think that would be a challenge, but for people's private stories and historical stories..."
Get the latest updates, reviews and unmissable series to watch and more!
Thank you for signing up to Whattowatch. You will receive a verification email shortly.
There was a problem. Please refresh the page and try again.