David Mitchell reveals Bake Off star Noel Fielding guest stars Upstart Crow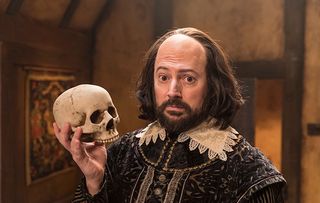 David Mitchell has revealed that Noel Fielding guest stars as Tudor songwriter in the second series of his Shakespeare comedy Upstart Crow
TV Times (opens in new tab) caught up with comedian David Mitchell to get the low down on series two of the Shakespearian inspired comedy Upstart Crow, which returns on Monday on BBC2 at 8.30pm.
Written by Ben Elton, the Elizabethan comedy was a hit when it first launched last summer. David Mitchell plays Shakespeare and explained that in this series his character has lots of tests to overcome.
Speaking about what troubles lie ahead for his character, David revealed: "He's had some success and we know he will make it but he doesn't. He is up against it as there's pressure to write more plays, his transport problems intensify, his wife Anne [Liza Tarbuck] wants him at home more and his teenage daughter Susannah [Helen Monks] wants to meet boys so Will tries to help with his usual 'disguising boys as girls' plotting style!"
Starring alongside David is Harry Enfield who plays Shakespeare's father. David said that working working with Harry was 'a dream come true'.
Harry Enfield stars in Upstart Crow as Shakespeare's dad John
He added: "He is incredibly nice and getting to know him and Ben has just been brilliant because I was a huge comedy nerd in the 1980s and early 1990s and they were big heroes of mine."
The new series kick on Monday, but David reassured us that there is lots to look forward to in the coming months.
He said: "Emma Thompson is brilliant in the Christmas special. She plays Elizabeth I and we were all nervous because we didn't want to disappoint her but she seemed thrilled to be there, which was polite of her, because she has been on more exciting sets than ours!"
David also revealed that new Great British Bake Off (opens in new tab) host Noel Fielding would be making a guest appearance. Noel plays a top Tudor songwriter when Will tries launching the musical theatre genre. How will this new venture pan out...
Looking to the future David also has hopes for other guest appearances. He said: "I'd love Robert Webb to be in Upstart Crow… Ben has it in mind to write a cameo for him but nothing has been quite right for him yet. We've had so much fun working together again on Back though."
Upstart Crow airs on 11 September On BBC2 at 8.30pm
Get the latest updates, reviews and unmissable series to watch and more!
Thank you for signing up to Whattowatch. You will receive a verification email shortly.
There was a problem. Please refresh the page and try again.