DEATH hits Emmerdale next week - but is THIS who dies in the deadly blaze?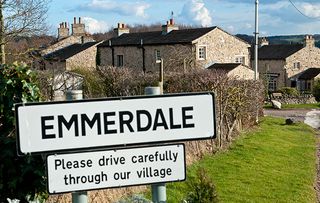 (Image credit: ITV)
Have Emmerdale fans worked out who is going to perish in next week's factory fire?
Emmerdale has promised that next week's episodes are going to be action-packed as the Sharma factory burns down in a terrifying blaze... taking the life of one village resident.
The drama will see Tracy Metcalfe trapped in the factory as the flames take hold... but what if she is a red herring, and it is actually someone else who meets their maker in the fire instead?
As always Emmerdale fans have been trying to work out who the doomed character is... and some have guessed it might be Frank Clayton who dies next week. But are they right?
The drama starts next week when Kerry Wyatt steals the charity money raised at Bernice's Wild West Fundraiser from the factory safe.
MORE: HORROR for this Coronation Street resident as they unearth a sickening secret
The beautician thinks she is doing the right thing by taking the money for daughter Amy to pay off a debt... but soon her actions unwittingly lead to a devastating fire when she and Amy go back to the factory to cover their tracks by tampering with the CCTV cameras.
As they escape from the factory, the pair think their troubles are over. But little do they know, their problems are only just beginning as the broken camera sparks, setting the building on fire.
As the fire spreads, no one has any idea that Tracy is trapped inside, having snuck in to meet Billy for a secret rendezvous in the factory store room.
As she fights for her life and the smoke and flames take hold, the villagers gather outside the factory to watch it burn.
But some fans think Tracy is a cover and that Frank is going to be the one to die...
Could they be right? Perhaps Frank races into the burning building to save his daughter, only to succumb to the flames himself?
Or is Vanessa in danger as she realises her sister is trapped inside the blaze?
Whoever it might be, one thing that we can be certain of is that life in Emmerdale will never be the same again after next week...
Emmerdale airs weeknights at 7pm on ITV, with an extra episode at 8pm on Tuesdays and Thursdays.
Get the latest updates, reviews and unmissable series to watch and more!
Thank you for signing up to Whattowatch. You will receive a verification email shortly.
There was a problem. Please refresh the page and try again.