Death in Paradise: 'There are some brilliant murders in the new series,' reveals Kris Marshall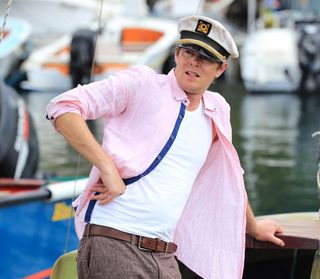 (Image credit: BBC/Red Planet Pictures/Denis Gu)
Kris Marshall invites TV Times to the Caribbean where he tells us all about the shocks and surprises coming up in the new series of Death in Paradise
TV Times is feeling refreshed after a quick swim in the warm tropical waters of Guadeloupe, the stunning Caribbean archipelago that hosts unstoppable BBC crime caper Death in Paradise.
Unfortunately the scene isn't quite so idyllic for the star we're here to interview. Just a few minutes walk away, Kris Marshall is sweltering under the glare of lights and TV cameras, filming a scene in a local priest's office, which has become better known as fictional Saint Marie's iconic police station.
Despite the sticky filming conditions, Kris, who plays clumsy DI Humphrey Goodman, has a big smile on his face and is clearly delighted to be back for series five. He promises there's lots to look forward to. "There are some brilliant murders this year!" he says excitedly.
"They've really thought outside the box. In the first episode all of the suspects go scuba diving and the one person left on the boat gets murdered. Who did it? The whole show is kitsch and great fun, but I also love how we're changing it up a bit. I'm really glad that these writers are in a room, sweating!"
The cast underwent something of a shake-up last year, with the sad departure of Sara Martins, who played Humphrey's colleague and love interest, Camille, as well as fellow original cast member Gary Carr, aka dedicated officer, Fidel. They have been replaced by Josephine Jobert as new right hand woman, Florence, and Tobi Bakare as young JP.
Kris reckons change is no bad thing.
"I was sad to see Sara go because she was a massive part of the series and an amazing actress, but it's great to keep things fresh. The show is bigger than any of us, really. Camille's exit was beautifully done. Personally I'm glad Humphrey can stop trying to win her affections and concentrate on good cases. He also tries to get back into dating this series…"
Kris admits he understands Sara's reasons for leaving.
"It's extremely hard being out here for six months, your life gets put on hold. It's fine if you're married with a kid like I am, and you can have your family out here with you. But if not then, as great as it is, it can also be quite intense."
Raising a child away from home also has its difficulties.
"My son has grown up here – he's three in September and he hasn't had a summer in England. The other day I realised he's never had his face painted and I thought, 'I'm such a bad parent!'. I just haven't been to any fetes or tombolas, or anything like that – we've been in the Caribbean!"
Of course, it wasn't so long ago that Kris was the new boy, taking over from Ben Miller at the beginning of series three. At the time he made no secret of his concern that viewers wouldn't warm to a new face at the helm, but in fact ratings have only risen, and this series will see Kris appear in more episodes than his predecessor.
"I'm still absolutely thrilled, it could have been an unmitigated disaster and I knew that before I did it. I like a risk, though, and I thought I could bring something to the show. It's gone better than I could have hoped for really, and I'm really pleased for the people who put their faith in me. I'm happy I didn't screw it up!"
Last year also saw a new face arrive on the island, as James Fox appeared as Humphrey's dad, Martin. Kris agrees it would be fantastic to see him return.
"I can absolutely imagine him coming back actually, and I'd love it. I mainly knew James through my friendship with his son Laurence [Fox, who stars in Lewis], but he didn't even know his dad was filming with me! They obviously don't talk about acting in the Fox family…"
Now that Lewis has filmed its final episode, perhaps Laurence could turn up on Saint Marie?
"I'd love him to come out and play one of my high-flying brothers. We need to meet Humphrey's mum as well, she's an omnipresent spectre in his life. James is about my height so it would be brilliant to have a really small mum… Miriam Margolyes!"
Whichever stars walk the Caribbean beaches, Kris is confident Death in Paradise will continue to strike a chord with viewers for many more years to come.
"People love it because it's cosy, it doesn't take itself too seriously and it's on in January when it's cold. I can absolutely see it continuing in the same way as Midsomer Murders because it's got that same warmth that My Family had, and the whole family can watch it together. Granny can enjoy it with the little kids while they toast crumpets on the fire, and that's halcyon stuff."
Death in Paradise returns to BBC1 on Thursday, January 7 2016, 9.00pm
Get the What to Watch Newsletter
The latest updates, reviews and unmissable series to watch and more!