Discovery Plus may have been saved from HBO Max merger
The cheap, factual streaming service lives on.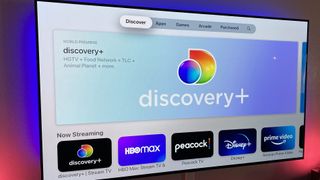 (Image credit: WhatToWatch.com)
If you're a fan of factual entertainment streaming service Discovery Plus, you've probably known about the upcoming HBO Max merger — ever since Warner Bros. and Discovery joined forces, it was confirmed that the two company's streaming services would soon merge.
However a new report suggests that Warner Bros. Discovery might be halting these plans. According to the Wall Street Journal (opens in new tab), the company is pausing its plans to combine its two video-on-demand platforms. We've heard no official news on the streaming service merger since CEO David Zaslav announced it in mid-2022, other than information from reports like this.
The report states that Discovery Plus will remain as a standalone streaming service to HBO Max, though some of its content may be released on the HBO platform as well as its own. There's no indication whether this would be a substantial amount of its library, or just select originals.
This is potentially good news to fans of reality shows and documentaries, which Discovery Plus specializes in — it costs just $4.99 for ad-enabled access to the platform, compared to $9.99 for HBO Max; for fans who don't want to watch ads, Discovery Plus' ad-free tier comes in at $6.99, while HBO Max's is $16.99.
According to the Wall Street Journal, some streaming fans feared HBO Max could get even more expensive if a full Discovery Plus merger happened, and the company didn't want to risk losing them. This will be good news for money-conscious subscribers all around, then.
On social media, responses are mixed as to the news. While many people are happy to see that they won't have to pay more money for videos they might not watch, there are also some fans who were looking forward to the increased library they'd get.
More are proposing different ways Warner Bros. Discovery could spin a merger, and lots of them make quite a bit of sense.
Of course, this report isn't official confirmation of the news, as Warner Bros. Discovery has stayed quiet on its merger plans for many months now.
But as streaming fans look to save money in the face of price rises, more and more new services and fewer streaming deals to keep costs low, fans of reality TV could get one small saving grace in avoiding subscribing to a new HBO Max.
Get the What to Watch Newsletter
The latest updates, reviews and unmissable series to watch and more!
Streaming and Ecommerce Writer
Tom is the streaming and ecommerce writer at What to Watch, covering streaming services in the US and UK. His goal is to help you navigate the busy and confusing online video market, to help you find the TV, movies and sports that you're looking for without having to spend too much money.