Is there a Discovery Plus free trial?
Discovery Plus comes with a free trial for seven days.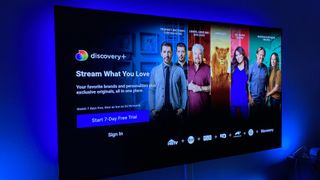 (Image credit: WhatToWatch.com)
So you've checked out Discovery Plus, and you've realised that it's an almost-bottomless pool of factual and edutainment videos. Your next question is probably "is there a Discovery Plus free trial?".
In the busy world of streaming services, it's always worth testing out a new platform if you can, whether it's from a free trial, or a streaming deal.
While many big streamers have pulled their free trials including Netflix, Disney, HBO Max and Peacock, Discovery Plus joins a select few that haven't, with one of the only other major services that lets you try for free being the Apple TV Plus free trials.
Discovery Plus is a reality and lifestyle streamer that offers over 55,000 episodes of 2,500 shows and more hours of content than we care to even think about. Available both in the US and the UK, and either as a standalone service or a Prime Video channel, it's great for non-fiction content.
Discovery Plus costs $4.99 a month if you don't mind watching some advertising and $6.99 a month if you want to get rid of the ads, making it one of the cheapest streaming services around. In the UK it costs £4.99, though you can get a bundle for £6.99 that has sports content included.
On all of those plans, you can try a seven-day free trial, nabbing you your first week of Discovery Plus for free.
You'll still have to fork over that payment info when you sign up — that's just the way things work. But you won't be charged by Discovery Plus until that seven-day window is up. (It's worth mentioning that Discovery Plus at some point will be available on Amazon's Prime Video, meaning Amazon will handle all the billing.)
What do you get with your Discovery Plus free trial?
You'll get nonstop Discovery network shows, 24 hours a day, seven days a week, 365 days a year. You'll be able to watch shows like 90 Day Fiancé, House Hunters, Chopped, Fixer Upper and more. In addition to all your all Discovery favorites, there also are a number of Discovery Plus original shows to enjoy. They include reboots and spin-offs of some of those old favorites, as well as completely new programming.
You can subscribe to Discovery Plus inside the app, or at DiscoveryPlus.com.
There are a wide range of devices that carry the service. Watch Discovery Plus on Roku, on Apple TV and Android TVs, on iOS (iPads, iPhones and Macs) and also on Android phones and tablets. Discovery Plus is on Fire TV and it's also available on Xbox One and Xbox Series S/X.
How to get an extra Discovery Plus trial
Had trouble deciding whether Discovery Plus is for you? Just want more free stuff? There's a hidden extra way to get seven more days of streaming for free.
There's a Discovery Plus Prime Video channel, which offers its own seven days of free testing. Using this method before or after you test the service itself lets you get even more unpaid streaming.
Get the What to Watch Newsletter
The latest updates, reviews and unmissable series to watch and more!
I've worked in content strategy, editorial and audience development for leading film and TV companies for over 15 years. Always fascinated by digital trends, I'm currently obsessed with FilmTok. You can also find me extolling the virtues of classic TV shows like Fringe, Smallville and The West Wing, romance movies, Wong Kar Wei's back catalogue and anything that involves Monty Don/Gardener's World.