Dynamo reveals the secrets behind his latest illusions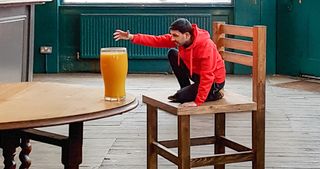 Like any other magician, Dynamo never shares the secrets behind the illusions he creates. Today, however, he broke that rule by releasing images of seven incredible illusions and revealing how he created them.
Dynamo created the amazing set of images for the S7 Everyday Illusions project, which is part of a campaign to encourage people to add a bit of magic to their photos.
http://www.youtube.com/watch?v=wVxCVkEdRGk
Bradford-born Dynamo, 33, shot the images using the new Samsung Galaxy S7, which launches on Friday March, and he insists that by anyone can create their own mind-boggling shots by playing with perspective and perception.
In this illusion, Dynamo looks tiny compared to the pint of orange juice…
Dynamo has used a simple chair prop for this illusion. The seat is a separate component which

is put further back in the shot so when lined up it makes whoever is sitting on it look tiny.
"Ever since I was a child, I have been interested in looking at the world in different ways," said Dynamo, who is currently on a sell-out arena tour of the UK. 'I have always been fascinated by the fact that a simple twist on perspective can completely affect our perception of an image. I wanted to play with this concept for the Everyday Illusions pictures.
"They say magicians should never give away their secrets - but for one time only, I wanted to create a series of illusions that anyone can create and show you exactly how to do it with a little time and imagination."
Thank you for signing up to Whattowatch. You will receive a verification email shortly.
There was a problem. Please refresh the page and try again.