EastEnders fans left BAFFLED after last night's mind-boggling episode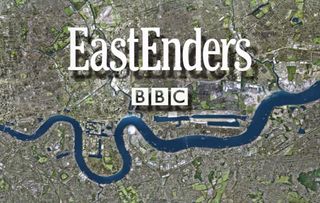 (Image credit: BBC)
No one can work out where everyone is sleeping at the Slaters...
EastEnders fans have been left confused after trying to work out how many people are now living in the Slaters' house.
Last night's trip to Walford saw chaos erupting at the Slaters' breakfast table, with Martin moaning about the fact there was no milk for his cereal, Big Mo sitting in nothing but a towel thanks to the lack of hot water, and everyone fighting over one cup of tea that Jean had kindly made for new mum, Hayley.
But as the bickering continued, fans got thinking about where exactly all these people were sleeping at night.
With Mo, Kat and Jean all living there, along with Martin, Stacey and their three kids, things were already cosy. But add Whitney, Tiffany, and now Hayley and her new baby into the mix, and trying to work out how they all fit into the house is mind-boggling!
With twelve people fighting over hot water and milk, it's not that surprising things can get fraught in the Slater house.
Fans were quick to point out the puzzle on social media...
One fan even tweeted:"I need a floor plan of the Slater's gaff," with EastEnders official Twitter account replying: "We'll see what we can do!".
But while fans are contemplating the sleeping arrangements of the Slaters, the main focus of the hour-long episode was Alfie's dramatic return to our screens.
Kat was shockend to come fact-to-face with her husband, but what started as a surprisingly civil reunion soon toured sour.
Just when she thought this might be the moment she would finally get to see her kids again, Kat was left heartbroken when Alfie told her their boys were back in Spain.
After Kat walked out on Alfie after an almighty row, it remains to be seen just what is next for the estranged pair. One thing is for sure, all hell will break loose when Kat finds out the truth about Hayley's baby.
Don't forget there's no EastEnders tonight as it is BBC Children In Need at 7.30pm, BBC One.
EastEnders airs Monday and Friday at 8pm and Tuesday and Thursday at 7.30pm on BBC One.
Picture Credits: BBC
Get the latest updates, reviews and unmissable series to watch and more!
Thank you for signing up to Whattowatch. You will receive a verification email shortly.
There was a problem. Please refresh the page and try again.