EastEnders fans predict this unlikely character will scupper Phil's plan to bring down Keeble
EastEnders viewers think Phil's plot is about to fall apart thanks to some unexpected interference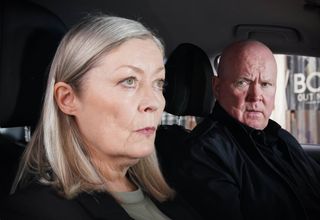 (Image credit: BBC)
EastEnders fans are predicting that Phil Mitchell's plan to bring down DCI Keeble is about to fall apart - thanks to some meddling from an unlikely character.
Phil's enemy Keanu Taylor is back in Walford and seemingly working with Phil to get dirt on Keeble - though the jury's still out on whether Phil should trust him.
Meanwhile, the clock's ticking on Phil's efforts to bring down Keeble, before poor Billy Mitchell gets banged up for life.
And there's an added complication in the shape of sister Sam's fling with Keanu.
The plan is for Phil to get actual, concrete evidence that Keeble's fixation with revenge is making her make some pretty bad - illegal - decisions, and therefore get the case against Billy to collapse.
But despite Keanu's reappearance in Albert Square, and Sam's ill-advised romantic liaisons, fans are convinced it could be someone outside the family who actually scuppers his scheming.
Alfie Moon.
Alfie's got an obsession of his own - ex-wife Kat Slater.
He's determined to win her away from fiance Phil, and live happily after.
So far, his plans have failed. But EastEnders viewers think Alfie's about to step things up and go from panto frolics to something more sinister.
After all, Alfie's already clocked Phil and Keanu together when they should be sworn enemies.
And fans reckon he could tell Keeble what he knows - and ruin all Phil's carefully plotted plans.
And some fans have taken it even further, predicting that Phil will be sent to prison for life - leaving Alfie as the main man in the Square!
Really?!
EastEnders usually airs from Monday to Thursday at 7.30pm on BBC One. Check our TV Guide for more information.
Get the latest updates, reviews and unmissable series to watch and more!
Kerry is a writer, author and editor with a lifelong love of the soaps, a passion for TV drama of all kinds, and an obsessive devotion to Strictly Come Dancing.
She was features editor of All About Soap magazine for more than a decade, covering every bit of excitement from all the UK soaps and the Aussies and still writes about all the juiciest gossip from the Street, the Square and the Dales whenever she can.
Kerry's also an author of historical fiction, and her two jobs collided when she got the chance to write two novels based on Emmerdale, and the Sugden, Tate and Dingle families, during WW2.
Thank you for signing up to Whattowatch. You will receive a verification email shortly.
There was a problem. Please refresh the page and try again.