EastEnders fans rejoice as this character finally reveals SECRET plan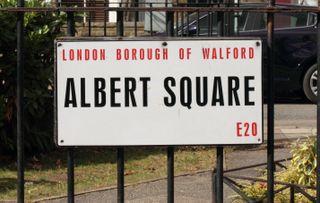 (Image credit: BBC/Jack Barnes)
It's been a long time coming!
For months now, popular EastEnders character Linda Carter has left viewers of the soap distraught, as she got closer and closer to the evil Stuart Highway - and as such, further and further from her husband, Mick.
She's been cosying up to Stuart, the man who put Mick (Danny Dyer) behind bars, for weeks now. And the final straw for fans came when she was even seen enquiring about a divorce!
But now, after months of subterfuge, Linda has finally revealed that she's had a secret plan all along.
On Friday night's episode, she admitted that she hasn't turned her back on husband Mick after all, and that she's simply in the midst of a long-term plan to free him from prison.
At the end of the episode, she was forced to make the confession to Shirley Carter, who had been causing chaos after seeing Stuart get more and more involved with Linda.
After dragging Shirley behind the bar of the Queen Vic and out of sight, Linda begged her sister-in-law to let it go. She went on, finally confessing that she still loves Mick, and hadn't thrown her wedding rings away.
She went on to tell a stunned Shirley that she was simply doing everything she could to get him out of jail, saying "I will have my Mick back, I will get him out. But I'll do it my way."
But Linda didn't get the chance to elaborate, as the episode finished up after the long-awaited for confession.
And it seems EastEnders fans were delighted by the revelation of Linda's plan, with many praising her for 'playing the game' with Stuart.
One viewer wrote, "Yesssss Linda, should never have doubted her #Eastenders", while another commented, "Yes Linda, playing the game! #eastenders #mickandlindaalways @bbceastenders".
And a third said, "Brilliant episode of #eastenders tonight. So relieved to see Linda's "back"!!!"
Other fans rejoiced after saying that they had had a suspicion Linda was playing Stuart all along. One said, "#Eastenders Called it!! Knew Linda was playing Stuart, no-one believed my theory!!'
While another viewer commented, "I KNEW that's what Linda was doing! #EastEnders"
So just how successfully will Linda's plan play out? And will she really be able to free Mick from prison? We'll have to wait and see!
Get the latest updates, reviews and unmissable series to watch and more!
Thank you for signing up to Whattowatch. You will receive a verification email shortly.
There was a problem. Please refresh the page and try again.