EastEnders fans want 'chilling' Nish to be the Christmas murder victim!
EastEnders viewers say they're hoping Nish is the one who gets what he deserves!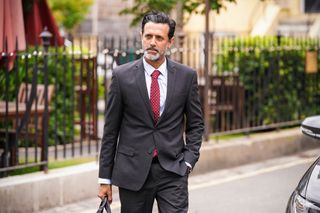 (Image credit: BBC/Jack Barnes/Kieron McCarron)
EastEnders viewers are convinced Nish Panesar will be murdered at Christmas!
And they're crossing their fingers that the "chilling" businessman will be the one who's the victim when the festive season arrives.
Last month, fans were treated to a shocking flash-forward when we saw six women - Stacey, Suki, Linda, Sharon, Denise and Kathy - in the Queen Vic at Christmastime.
The fire was crackling, the decorations were up - and there was a corpse on the floor!
The women were staring in horror at the body, and Sharon - who was wearing a wedding dress (what?!) - checked the victim's pulse and pronounced him dead.
Now EastEnders fans are predicting that the murdered man is Nish Panesar.
And they're quite pleased about it!
Last week, Suki and Nish renewed their wedding vows. But it was clear that Suki's heart wasn't in it, and as her husband enjoyed the celebrations, she sneaked across the Square and locked lips with secret lover Eve Unwin.
But in last night's episode, as Suki tried to loosen Nish's grip on their family, he was one step ahead.
With Nish telling Ash that she shouldn't take the job she'd been offered in Canada, Suki cleverly managed to manipulate her daughter into accepting the role.
And she tried to worry him about a new business deal in Leeds that she said needed more involvement from him, hoping that meant he'd head up north and leave her and Eve alone.
But at the end of the episode, Nish quietly reminded his wife that he was the head of their family and his word was law.
EastEnders fans shared their fears about what the quiet but terrifying man could do next.
After all, he's already served a long stretch in prison for murdering an innocent chap who'd got too close to his wife, and we know he's keeping an eye on Mitch Baker for daring to speak to Suki.
Viewers said his behaviour is "chilling", and warned that Suki could be in "real danger".
One viewer even compared Nish to classic EastEnders villains, saying he was a mix of Archie Mitchell, Michael Moon, and Trevor Morgan.
And we all know how they ended up!
Now the fans are predicting Nish could be the Christmas corpse.
But one fan said Nish was "all mouth" and wasn't a villain at all.
What do you think? Could Nish be killed at Christmas after going too far?
EastEnders usually airs Monday to Thursday at 7.30pm on BBC One. Check our TV Guide for more information.
Get the What to Watch Newsletter
The latest updates, reviews and unmissable series to watch and more!
Kerry is a writer, author and editor with a lifelong love of the soaps, a passion for TV drama of all kinds, and an obsessive devotion to Strictly Come Dancing.
She was features editor of All About Soap magazine for more than a decade, covering every bit of excitement from all the UK soaps and the Aussies and still writes about all the juiciest gossip from the Street, the Square and the Dales whenever she can.
Kerry's also an author of historical fiction, and her two jobs collided when she got the chance to write two novels based on Emmerdale, and the Sugden, Tate and Dingle families, during WW2.