'What a hero!' EastEnders viewers in meltdown as 'old' Phil Mitchell returns to save Keanu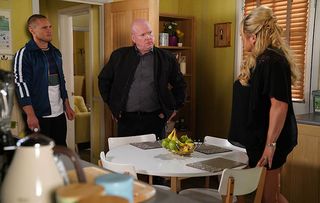 (Image credit: BBC / Kieron McCarron)
EastEnders viewers went into meltdown on Friday evening when Phil Mitchell heroically came to Keanu Taylor's rescue.
As Albert Square continues to be overrun by a gang, the latest instalment saw mechanic Keanu horrifically beaten by the group while trying to protect young Dennis Rickman.
When he refused to give back their stolen phones and drugs, Jagger and the yobs trashed The Arches, wrecked a car and even stole some money.
But as Keanu - played by Danny Walters - was kicked to the floor, Phil came charging round the corner and managed to scare off the thugs all by himself.
After kneeing one in the groin and screaming "Come on then, you want some?", the Mitchell brother even managed to throw one lad over a fence.
And fans of the show absolutely loved the return of 'old Phil', as one wrote on Twitter: "Phil Mitchell is such a hero! #EastEnders".
"I'm crying. Imagine a whole street gang being defeated by Phil Mitchell #EastEnders #mitchelled", said another.
While a third added: "I love Phil Mitchell he's not scared of no one or anything #EastEnders he's like the Kray twins."
And a fourth agreed: "Phil launching that lad over the fence. This is why I love #Eastenders."
They weren't the only ones...
Meanwhile, after Phil - played by Steve McFadden - scared away the whole gang singlehandedly, he took Denny and Keanu home to clean them up, before laying into the boys for bringing trouble to his garage.
Phil said: "Whatever trouble you've got yourself into, he was trying to kill you.
"You get my garage trashed, my money, tools, nicked. So what is it? Drugs? You keep your business away from my business, my family."
But when Keanu finally confessed the truth about Denny's involvement with the gang, Sharon went on to thank him for looking out for her son.
Thank you for signing up to Whattowatch. You will receive a verification email shortly.
There was a problem. Please refresh the page and try again.