EastEnders star Rob Kazinsky defends his shock soap comeback as Sean Slater: 'Stop looking down on it!'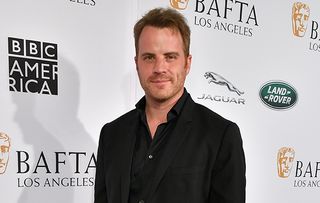 (Image credit: Rob Latour/REX/Shutterstock)
It was recently revealed that actor Rob Kazinsky would be reprising his role in EastEnders as bad boy Sean Slater.
But now the star has been forced to defend his decision after fans criticised him for returning to the BBC soap following a string of Hollywood film roles.
Sean – the son of Jean Slater and sister of Stacey Fowler – was last seen in Albert Square on New Year's Day all the way back in 2009, when he fled Walford after plunging into a frozen lake with then wife, Roxy and her daughter Amy.
However, after announcing his exciting comeback in the Spring, one of 35-year-old Rob's social media followers told the star: "It makes me sad you've had to go back to working in soaps."
Rob soon hit back: "This perspective is one of the reasons I wanted to.
"Took one day of working with Gillian Wright to be reminded that some of the biggest talent I ever worked with was on this show."
He then added: "It's a privilege to be on something this special, even if just for a moment. Stop looking down on it."
After the original user went on to say they meant 'no offence' by the comment, Rob insisted that people shouldn't 'look down their noses' at soaps actors.
"I have five movies coming out this year that I'm very excited about, and I'm very excited to be working back at my first love too," he continued.
"I hope people can see that there's really no difference. People look down their noses at these things, and I'm trying to show that you don't have to."
Since leaving the show, Rob has starred in successful movies including Pacific Rim, Hot Pursuit and Warcraft: The Beginning, and hit TV series' including True Blood and Brothers & Sisters.
He also has a role in the upcoming Captain Marvel movie.
Meanwhile, Rob recently described his brief return to the Square as 'explosive' saying he has 'unfinished business' to attend to.
The actor teased: "Throughout my career, I have always felt that my best work was on EastEnders as Sean Slater, that there was something there in him that I understood completely; something traumatic, something that we never really got to show the viewers. I have unfinished business in Albert Square, and am thrilled to be returning to what I still consider to be my home, however briefly.
"EastEnders is still the most important serial on British television, never afraid to combat hard storylines and tell hard truths. I have always been proud of what EastEnders has done for social awareness throughout my lifetime, and that is why I'm back; to tell a story that means something to me with the family that I know can tell it right."
Thank you for signing up to Whattowatch. You will receive a verification email shortly.
There was a problem. Please refresh the page and try again.