EastEnders star Louisa Lytton: Stacey Fowler tells Ruby Allen: 'You've been raped'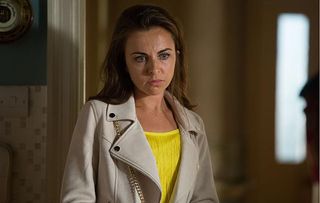 (Image credit: BBC)
Following a night out with Stacey, Ruby comes to the shock realisation that she's been raped, reveals actress Louisa Lytton
EastEnders boss John Yorke promised a big storyline for Walford returnee Ruby Allen, and the plot kicks off next week when the brunette goes to the E20 with Stacey Fowler.
All's fine at first, and Ruby has a blast. But she's clearly not herself the next day, and when she opens up to Stacey, her friend realises that Ruby has been raped.
The girls are at the club for Martin's school reunion. Stacey isn't keen on going, so drags Ruby along for company. As the drinks flow, Ruby flirts with Martin's friends Matt, Ross and Glenn.
"She's drinking, dancing and having the time of her life," reveals Louisa Lytton, who plays Ruby. "When Martin and Stacey head home, she decides to stay."
The following morning, Martin and his pals go for a prearranged fry-up. Ruby, meanwhile, pays Stacey a visit. As the girls head out, they stop off at the chemist, and Stacey overhears Ruby asking for the morning-after pill.
[Check out the latest EastEnders spoilers]
Stacey senses that something's wrong and invites her friend over to the Slater house. As Ruby opens up about the night before, Stacey is horrified by what she tells her.
"Ruby tells Stacey that she went back to Ross' place," adds Louisa. "She had sex with Ross and fell asleep, then woke up to find Matt having sex with her. Stacey's like, 'You've been raped'.
"Ruby's view at that moment is, 'Well, no, because I didn't stop him.' But Stacey says, 'You didn't say yes. You didn't choose to have sex with him, so therefore you've been raped.' And Ruby realises that yes, she has been."
Meanwhile, Martin's mates are sharing their own version of events. Martin's surprised to learn that both Ross and Matt slept with Ruby, but they insist she was "up for it".
Staggered to learn that the lads think the sex was consensual, Stacey goes to the police station for advice. As memories resurface of her own rape at the hands of Archie Mitchell, she urges Ruby to report the attack.
As a fragile Ruby isn't ready to do that, Stacey persuades her, instead, to go to a clinic to give swabs, so that evidence is logged, should she change her mind.
Will Ruby Allen find the strength to come forward about the rape? And if she does, will Martin support her or his mates?
EastEnders continues on BBC1.
Get the latest updates, reviews and unmissable series to watch and more!
Thank you for signing up to Whattowatch. You will receive a verification email shortly.
There was a problem. Please refresh the page and try again.