EastEnders viewers fear for Ted Murray after heartbreaking cliffhanger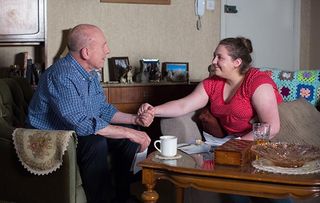 (Image credit: BBC / Jack Barnes)
EastEnders fans were left heartbroken last night when the Taylors found Ted Murray collapsed in his home.
After experience chest pains earlier this week, Ted was diagnosed with angina but decided to keep his condition a secret from his friends and family while he prepared to move overseas to Australia.
Determined to forget about his health worries, the Walford favourite pretended that he was fine while setting everything up for his loved ones before his departure.
As well as putting aside a tab for the Taylors and Patrick in the Queen Vic, he also handed over a generous wad of cash to Bernie.
After Ted - played by Christopher Timothy - also handed money over to Karen, she attempted to get into his good books by supporting Bernie at a chess match.
However, as the competition started, Karen and Keegan noticed a string of missed calls from Ted on Bernie's phone and eventually rushed back to his flat to find him collapsed on the floor.
While Karen frantically called an ambulance, Bernie was left crying her eyes out. And it looks like she wasn't the only one as viewers at home rushed to Twitter following the heartbreaking scenes.
'Aww how sad...i love Bernadette and Ted's friendship... #EastEnders', wrote one.
While another said: 'Omg ted can't die #EastEnders', and a third added: 'NO! Poor Ted! Please don't kill him off #EastEnders'.
And there were plenty more heartbroken fans...
While it's unclear whether Ted will survive the scary incident, his heartbreaking collapse comes just months after the pensioner found his wife Joyce dead.
She too had been secretly concealing an illness, and Ted was left devastated by her sudden death and has been struggling to cope on his own ever since.
Will he pull through? Viewers will have to wait until next week to find out!
Thank you for signing up to Whattowatch. You will receive a verification email shortly.
There was a problem. Please refresh the page and try again.