Charity Dingle's secret son Ryan makes his mark in Emmerdale says James Moore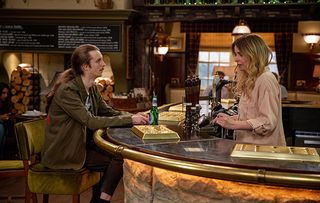 Ryan Stocks rocks up in the village to meet his birth mother Charity Dingle for the first time, actor James Moore tells Soaplife…
Charity Dingle is over the moon when Irene Stocks allows her to meet her son, Ryan Stocks, played by James Moore. But what will he make of his biological mother?
What's the story?
"Ryan has a real feeling of being caught in the middle between Irene and Charity," actor James Moore tells Soaplife. "But he did want a relationship with Charity from the beginning." Will they get on?
What's happening in Emmerdale? See the latest soap storylines
Actor James Moore's interview with Soaplife about Ryan Stocks arriving in Emmerdale to meet his birth mother Charity Dingle…
Soaplife: Were you an Emmerdale fan before landing this role?
James Moore: "Actually, I wasn't. I got the audition and I was like, 'Right, I'd better start watching Emmerdale.' To be honest, I was instantly blown away. I had a stereotypical view of soaps and I was amazed at how good it is."
S: What can you tell us about Ryan?
JM: "He's 27 and, although I haven't been given an extensive back story, I'm kind of developing one in my mind. I don't speak with a Northern accent because I'm from Cheltenham, so I had this idea that my character would be Bristol-based and he's coming from this city into a small village. The look he has is very different to anyone else in the village."
S: Does he feel Irene or Charity is his true mum?
JM: "Irene has brought him up for 27 years and then, all of a sudden, Charity's in the mix, so there's conflict there. Irene's quite jealous, but Ryan and Charity have a connection even though she abandoned him. He has to make a decision one way or the other and, at the end of the day, he tries not to upset anyone."
S: When did you become am actor?
JM: "I wanted to be one since I was 13. But, as I have cerebral palsy, I needed disabled roles, so I kind of went off it. I did a degree in photography, then I joined the National Youth Theatre. Earlier this year, I got an agent and, two weeks later, they called me in and said, 'Emmerdale want to see you.' Two weeks!"
S: Tell us about the friendship that Ryan strikes up with Ross Barton…
JM: "They click immediately because they have a similar sense of humour. I think Ryan has a bad boy element about him that is just waiting to come to the forefront. Charity has her own thoughts about Ryan and Ross being friends."
S: What do you think about the representation of disability on TV?
JM: "Obviously, I'd love to see more disabled people on TV. We've progressed so quickly in everything… race, sexuality, gender, etc. It's fantastic for example that Emmerdale have hired a transgender actor to play Matty Barton and they've picked me to play Ryan. We can give the roles a truth because we have the experience that enables us to connect with the characters."
Emmerdale continues on ITV.
Get the What to Watch Newsletter
The latest updates, reviews and unmissable series to watch and more!