'Emmerdale' fans FUMING at Marlon's reaction to Rhona's shock confession
By Daniel Judd published
Monday's 'Emmerdale' saw Rhona admit to Marlon that Marcus was Pierce's son.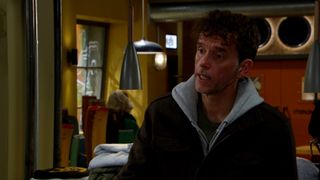 (Image credit: ITV)
It was a game of Truth or Dare in Monday's double helping of Emmerdale as Rhona struggled to keep her secret about Marcus's identity from Marlon. But it's universally acknowledged that in soaps 'the truth will out', or 'owt' as they say in the Dales - and this episode didn't disappoint.
Rhona (Zoe Henry) was forced to spill the beans to Marlon about the fact Marcus was Pierce's son after weeks of keeping it hidden. But that wasn't the only shock that Marlon had coming his way, because Rhona also revealed she'd contacted Marcus at Pierces' request.
Of course, Marlon was shocked at the news that not only had Rhona had a letter from her former abuser, but that she had also acted on his dying wishes, and Twitter exploded with rage at Marlon's reaction to the news.
Despite her lies, Rhona has been to hell and back recently, and fans were annoyed that Marlon had made the news about Marcus all about him...
But some fans thought Rhona was at fault for contacting Marcus in the first place...
But there were some scenes that fans loved... mainly Marlon dashing to Paddy to get his head around the situation. Viewers couldn't get enough of how the next morning revealed they had gone the full Bert and Ernie and had worn matching pajamas for their sleepover...
Many fans also loved the fact Kim waded in to put Marcus in his place. His father had killed Graham and it was great to have a quick reminder of how strong and forthright she could be...
It was also confession time for Meena too as our troubled vicar, Charles, visited the repentant serial killer once again to get to the truth. But could he handle the truth? Yes, Meena was in full Jack Nicholson mode, again. Recently it was The Shining ('here's Meena!') now she was quoting A Few Good Men...
Elsewhere, Noah celebrated his 18th birthday, blissfully unaware that Amelia had a crush on him. Since Noah is one bail short of a haystack this was not surprising. The upshot was we actually had a scene between Dan and Kerry at last!
Emmerdale airs weeknights at 7pm on ITV, with an extra episode at 8pm on Thursdays - see our TV Guide for full listings. You can also catch up on ITV Hub now.
Daniel Judd has worked for the BBC and ITV on TV websites as diverse as Comic Relief, EastEnders, and Strictly Come Dancing. He loves old programmes with a murder or a spaceship in them (or sometimes both).
Career highlights include: covering the filming of the first series of the Doctor Who revival in a freezing Cardiff Bay, stepping onto a rainy Albert Square for the first time, and hearing his team had won an International award while a bit chilly up a mountain near Snowdon.
He's also helped solve a problem like Maria and found Jesus, Joseph, and a Nancy.
Get the latest updates, reviews and unmissable series to watch and more!
Thank you for signing up to Whattowatch. You will receive a verification email shortly.
There was a problem. Please refresh the page and try again.