Emmerdale fans praise 'best ever' episode that could 'save lives'
Emmerdale aired a male-only episode, designed to get men talking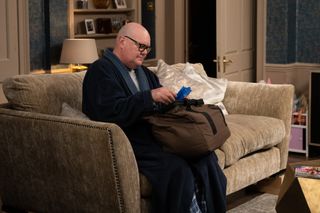 (Image credit: ITV)
Emmerdale aired a men-only episode last night, focused on Paddy's struggles with his mental health and designed to get everyone talking.
And fans have praised the episode as the "best ever" and have even said it could save lives.
Fan fave Paddy Kirk has been struggling with life since he discovered wife Chas Dingle was cheating on him with Al Chapman.
And recently Paddy took himself off, worrying his friends and family.
They were delighted when he returned, but were unaware that Paddy planned to take his own life and had only come back to say his goodbyes.
Fortunately, Paddy's concerned friends realised what he was planning, and managed to get to him in time.
And now they're busy supporting him in his recovery.
Dominic Brunt, who plays Paddy, and the Emmerdale cast and crew have worked with charities on the storyline including Andy's Man Club and Samaritans. They understand the importance of sharing feelings, and in an attempt to promote men talking, decided to air an all-male episode of the soap.
In the episode, Paddy joined best friend Marlon, as well as Cain, Jimmy, Bob and others in a lock-in in The Woolpack.
The friends shared stories and worries - with Dr Liam Cavanagh even admitting he tried to take his own life when he was a student.
And Sam Dingle airing his concerns - and a whole lot more - when he dropped his trousers to show Liam a worrying lump!
Fans loved the emotional, moving, funny - and important - episode.
They took to social media to sing the praises of the show for focusing on such a vital topic and doing it with heart - and humour!
"Emotional and outstanding," one fan wrote, adding that the show had "probably saved quite a few lives!"
While another viewer said it was episodes like these that shows how "powerful" soaps are.
We can't argue with that!
The episode ended with Paddy realising Bob owed him a fiver.
"Can you hang on another week?" Bob asked.
And Paddy agreed that he could - though we all knew that they weren't talking about money any more.
What a moving moment.
Many fans agreed that the episode was one of the best they'd ever seen.
Emmerdale usually airs on Monday to Friday at 7.30pm on ITV, with an hour-long episode on Thursday. Check our TV Guide for more information.
Get the What to Watch Newsletter
The latest updates, reviews and unmissable series to watch and more!
Kerry is a writer, author and editor with a lifelong love of the soaps, a passion for TV drama of all kinds, and an obsessive devotion to Strictly Come Dancing.
She was features editor of All About Soap magazine for more than a decade, covering every bit of excitement from all the UK soaps and the Aussies and still writes about all the juiciest gossip from the Street, the Square and the Dales whenever she can.
Kerry's also an author of historical fiction, and her two jobs collided when she got the chance to write two novels based on Emmerdale, and the Sugden, Tate and Dingle families, during WW2.