Emmerdale fans predict the END for Cain and Moira
Emmerdale viewers think there's no coming back from Moira's betrayal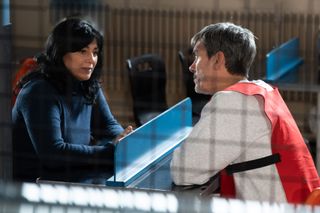 (Image credit: ITV)
Emmerdale fans think it's the end for Cain and Moira after a massive betrayal by Moira.
But how will Cain react when he finds out what's happened?
Caleb's arrival in the village has thrown a huge spanner into the works for Cain's plan to take the blame for Al Chapman's murder.
Cain was less than impressed to see his long-lost brother, and flatly refused to have anything to do with him.
But Caleb proved to be just as stubborn as his bro, and instead of leaving for good, he wandered off to Emmerdale, met the rest of his family, and stumbled upon the truth about Kyle being the one who really killed Al.
So far, so tricky.
Next swanky Caleb offered to pay for a top lawyer to help Kyle. Cain said absolutely not.
But Kyle took matters into his own hands, and took his blood-splattered jumper to the police station, where he spilled the beans about what he'd done.
With Kyle facing prison, once more Caleb offered his lawyer, and once again Cain said no way.
But as the bells rang in 2023 in the village, a desperate Moira headed down to The Woolpack where Caleb was partying with the rest of the Dingles.
She said that yes they needed help, and she wanted Caleb to contact his lawyer on Kyle's behalf.
A sensible decision? For Kyle, perhaps, but Emmerdale fans are convinced this could mean the end for fave couple Cain and Moira - or Coira as the viewers call them.
One glum viewer said: "Coira is over" while another predicted that Moira's decision could blow up in her face.
Some fans even threatened to stop watching the show if Cain and Moira split up!
Meanwhile other viewers were worried about how Cain would react when he finds out.
Although one astute fan pointed out that Mr Dingle's options for revenge are limited, given that he's currently behind bars!
For now, at least!
Emmerdale usually airs on weeknights at 7.30pm with an hour-long episode on Thursday. See our TV Guide for more information.
Get the latest updates, reviews and unmissable series to watch and more!
Kerry is a writer, author and editor with a lifelong love of the soaps, a passion for TV drama of all kinds, and an obsessive devotion to Strictly Come Dancing.
She was features editor of All About Soap magazine for more than a decade, covering every bit of excitement from all the UK soaps and the Aussies and still writes about all the juiciest gossip from the Street, the Square and the Dales whenever she can.
Kerry's also an author of historical fiction, and her two jobs collided when she got the chance to write two novels based on Emmerdale, and the Sugden, Tate and Dingle families, during WW2.
Thank you for signing up to Whattowatch. You will receive a verification email shortly.
There was a problem. Please refresh the page and try again.