Frank Clayton killed in Emmerdale car crash? Michael Praed tells all…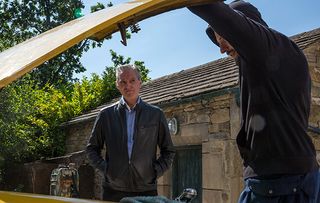 Megan Macey's peace-offering to Frank Clayton leads to a dramatic car crash in Emmerdale reveals actor Michael Praed!
It works a treat when Megan Macey buys a vintage sports car to woo back her former fella, Frank Clayton. But it's a dodgy motor and it careers into a ditch while they're out for a spin…
What's the story?
"The car ends up upside-down," actor Michael Praed tells Soaplife. "It's violent. You look at the car and you think they could either die or be injured. It's certainly going to be a life-changing situation…"
What's happening in Emmerdale? See the latest soap storylines
Emmerdale star Michael Praed chats to Soaplife about Frank Clayton's car crash…
Soaplife: Why can't Frank forgive Megan for cheating when he did it himself with Charity Dingle?
Michael Praed: "I wonder if it's just a man thing and women are more tolerant. It's not just that she slept with Graham Foster; she did also falsely accuse Frank of a scam, which could have put him in prison. There's still some resentment left about that."
S: What is it with all the motorbike and car stuff?
MP: "It's classic midlife crisis territory, isn't it? Frank walks around the corner, he sees this car and it kind of thumps him between the eyes. It's a sense of nostalgia. It represents something Frank isn't at the moment. It's masculine and virile and he feels a bit emasculated. It's a huge gesture that Megan buys it for him."
S: What is wrong with the car?
MP: "Well, it isn't kosher because it's come from Ross Barton and it's dangerous. Something is leaking and the car isn't well. They drive off and, the next thing you know, it is upside-down and bits of it are strewn everywhere."
S: How do you feel about having Graham actor Andrew Scarborough as a love rival?
MP: "Well, quite why Megan would choose Graham over Frank is a complete mystery to me. Women are fickle creatures indeed! Graham's very mysterious; he has that dark, brooding quality that some people find irresistible. We get on very well because we share a dressing room."
S: What do you think about Frank working in the factory?
MP: "Well, I've always had a thing for ridiculous hats and polyester. It's terrific fun being a rascal, but the great thing about Frank working in the factory is that I get to work closely with Bhasker Patel and Chris Bisson."
S: Would you like to see Frank paired up with a new woman?
MP: "Yes, but all the people I think would be ideal for him are completely inappropriate."
S: If Megan and Frank make it down the aisle, what sort of wedding would they have?
MP: "She must have some sort of dream wedding idea in her head, but I don't think they'd be allowed within 100ft of a church."
S: Would you like Frank and Megan to stay together?
MP: "Yes. Megan actress Gaynor Faye and I have been working closely for a couple of years now and we're tremendously invested in Megan and Frank. There is a shred of genuine emotion when one cheats on the other!"
Don't miss the double-bill of Emmerdale on Thursday 16 August from 7:00pm on ITV
Get the latest updates, reviews and unmissable series to watch and more!
Thank you for signing up to Whattowatch. You will receive a verification email shortly.
There was a problem. Please refresh the page and try again.