Emmerdale's Laura Norton reveals why she found Daz Spencer attack scene 'really hard' to film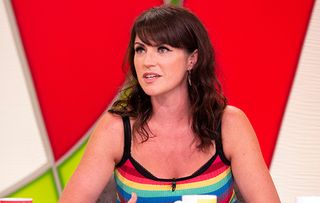 (Image credit: S Meddle/ITV/REX/Shutterstock)
"It was a bit weird"
Emmerdale viewers were gripped by another dramatic episode on Friday evening as Kerry Wyatt attacked Daz Spencer over schoolgirl Amelia Spencer's kidnap.
And now Laura Norton - who stars as Kerry in the ITV soap - has revealed why she found the scenes with her real-life partner Mark Jordan 'really hard' to film.
Daz has found himself at the centre of the gripping kidnapping story line after 11-year-old Amelia disappeared shortly after finding out that he's her real dad, not Dan.
But after Kerry confronted Daz and tried to beat him up, actress Laura has now admitted that she struggled to stay serious during the scenes.
Appearing on Loose Women, she said: "It's been brilliant to film, there's a lot of twists and turns.
"The first scene of the day, I had to go in and attack Mark, who plays Liam's brother's Dad in the show, because he's a suspect."
However, the actress revealed the fact the pair are actually a couple in real life made shooting a little awkward.
"It was 7 o'clock in the morning, first scene of the day, very emotional, very wordy, had lots of words", she said.
"And I had to get really physical, and it's really hard at that time in the morning to just go – boom, I'm crying my eyes out.
"It was a bit weird. I took the stage directions literally, just for safety. We're up against a wall – he said 'practice on me' – and I couldn't stop laughing, so we didn't get to do it once without laughing."
The drama is set to continue next week as Daz will be arrested once again, despite viewers finding out that the real kidnapper is the daughter of a man he killed following an accident during his army service.
But 35-year-old Laura - who joined the soap in 2012 - teased that there's still plenty more to come from this harrowing story, adding: "It's not by any means over yet.
"Daz is a suspect, but there's another couple of twists and turns. We do find her. Does she want to come home? Does she not? Does it have anything to do with him? What happens to the family once she is [back]?"
We can't WAIT to find out!
Get the What to Watch Newsletter
The latest updates, reviews and unmissable series to watch and more!