Emmerdale spoilers: Amy confesses factory fire secret to Nate!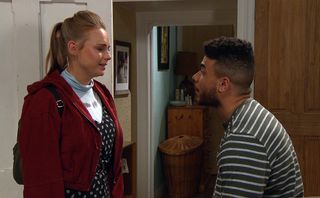 The secret is OUT! Kerry was not happy when she found out daughter Amy had blabbed to boyfriend Nate about the factory fire on tonight's Emmerdale...
Uh-oh! On tonight's episode of Emmerdale, Amy Wyatt's (played by Natalie-Ann Jamieson) guilty conscience got the better of her, and she confessed to Nate Robinson (Jurrell Carter) that her and mum Kerry (Laura Norton) accidentally started the factory fire which killed villager Frank Clayton...
Amy has been struggling to keep the secret in the weeks since the explosive blaze, which began after she and Kerry broke into the factory to steal some money from the safe to clear Amy's debts.
However, with the rest of the village, including Frank's grieving daughters Vanessa Woodfield (Michelle Hardwick) and Tracy Metcalfe (Amy Walsh) still questioning if Frank was to blame for the fire, Kerry and Amy hoped their secret had gone to the grave with poor 'ol Frank.
But in the meantime, Kerry can see her daughter is unraveling. So she has booked 'em both plane tickets to do a runner to Malaga, Spain!
However, in tonight's episode of Emmerdale, their great escape ran into trouble when Amy realised she didn't know where her young son Kyle's passport was.
Refusing to go on the run without him, Amy decided Kyle's passport must be up at Butler's Farm where Kyle's dad Cain Dingle (Jeff Hordley) lives. But when Amy went snooping for the passport, she was caught in the act by farmhand/her boyfriend Nate!
Put on the spot, Amy broke down and found herself admitting to Nate what is REALLY going on... and that she and Kerry started the factory fire which killed Frank!
"We didn't mean for any of it to happen, it just got out of control," sobbed Amy. "Tracy and Vanessa have lost their dad because of me."
Nate promised to keep the secret and help Amy anyway he can. However, Kerry wasn't convinced when she found out what Amy had done.
"I can't believe this. You're gambling my future on a man you hardly know!" angry Kerry snapped.
Can Nate be trusted to keep their secret? And will Kerry and Amy still go on the run to Spain as planned?
Emmerdale continues weeknights from 7:00pm on ITV
Get the latest updates, reviews and unmissable series to watch and more!
Thank you for signing up to Whattowatch. You will receive a verification email shortly.
There was a problem. Please refresh the page and try again.