Emmerdale star Natalie J Robb on Moira's rumbled affair: 'Mucky Moira strikes again!'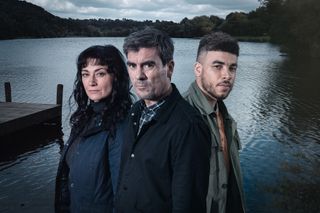 (Image credit: ITV)
When Moira's affair with hunky farm hand Nate is discovered by her husband Cain it leads to an explosive showdown that puts lives in danger…
After Moira and Nate enjoy a night of passion in Emmerdale, they get a shock when a seemingly oblivious Cain turns up at their hotel and asks them to join him on a fishing trip on a boat. It's only after the three of them are on board and they have set sail when the secret lovers realise they have been rumbled and it's not long before things take a terrifying and potentially deadly turn…
Here, Emmerdale star Natalie J Robb, who plays Moira, talks about her character's illicit fling, Cain's furious revenge and filming the explosive showdown…
Why do you think Moira's started this affair?
Natalie J Robb: "Well, what can I say? Mucky Moira strikes again! I think after everything that's gone on, it's been a bit of escapism for her. There's Nate offering himself to her with his top off in her kitchen and she just goes along with it. I don't think she's knows what she's going, really. Part of it is to do with everything she's been through."
At the beginning of this big week of episodes, Moira's finished with Nate, hasn't she?
Natalie: "Yes, she's actually wanting to spend some time with Cain. As far as she's concerned, her affair with Nate is over and she's looking forward to going to an agricultural show with Cain so they can spend some time together. But then Cain thinks Moira has been having an affair with Pete and that's when it all goes wrong… He tells Nate to go with Moira instead, because he secretly wants to sort Pete out."
What happens when Nate and Moira arrive at the hotel? The sensible thing would be to get separate rooms…
Natalie: "There is a bit of awkwardness at first, but then they rekindle things. I think for Moira, it's like one for the road, a last hurrah."
Meanwhile, Cain has discovered the truth. What happens when he turns up at the hotel in the morning?
Natalie: "She gets a bit of a fright. She thinks, 'Uh oh, what is going on?' But as Cain makes light of it, she's left not knowing if he knows about the affair or not. And when he talks them into going on this fishing trip, Moira thinks it's a bit strange because she knows him so well and it's all a bit out character. She knows something is amiss."
WHAT IS ON TONIGHT? Check out our NEW and improved TV Guide
What happens when they get to the boat for their fishing trip?
Natalie: "Moira's worried about what Cain will do. Both Nate and Moira question what's going on, but Cain is playing the slow game and biding his time. When Cain sends Moira below deck to make tea and bacon butties, that's when it all kicks off."
As Cain and Nate fight, Moira gets caught in the fray and goes overboard. How are you with water?
Natalie: "I'm a bit of a water baby, actually, so I'm fine with it. It was a really good experience. I loved it. Myself and Jeff Hordley, who plays Cain, both found the underwater stuff much harder than the stuff we normally get to do, but I think it's good push yourself and get out of your comfort zone. I've done diving before, but that was in the Maldives, so this was a little bit different!"
Have you done stunts like this before?
Natlie: "We blew the barn doors off two years ago, so I'm used to explosions. And I was burnt alive when I was in The Bill, so I'm used to fire. I haven't done stunts involving water before though. It's lovely to do something that's a bit more physical, away from the studio. I enjoy it because it's a different experience. But then every day is different when you're working on a soap and that's what I love about it. No two days are ever the same."
Emmerdale continues on ITV.
Get the What to Watch Newsletter
The latest updates, reviews and unmissable series to watch and more!