Emmerdale star Isabel Hodgins on Victoria's HORROR when rapist Lee discovers she's pregnant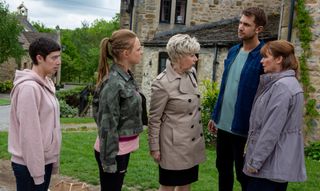 Victoria's ordeal will continue in Emmerdale when Lee makes a shock return
Emmerdale star Isabel Hodgins has revealed Victoria Barton's anguished feelings at coming face to face again with her rapist Lee Posner next week.
And to make matters even worse for the traumatised chef Lee also discovers that she is pregnant.
The latest turmoil for Victoria begins when Lee's mother Wendy (Susan Cookson) goes into The Woolpack and follows Victoria to the toilets.
"Victoria is coming out of the loo and sees this woman looking at her," reveals Isabel, who recently dramatically changed her hair.
"She says, 'Do I know you?' and the woman says, 'No… but you know my son, and we need to talk about all these lies you've been spreading.
"Victoria is shell-shocked. Fortunately, Charity flies to her defence. She has a go at Wendy, and when Vic crumbles, Charity's there to hold her."
MORE: Check out the latest Coronation Street spoilers
But that's far from the end of Victoria's ordeal. Next day, Wendy returns and now she's brought Lee along too.
Lee wrongly starts accusing Victoria of putting up the posters saying that he was a rapist.
Victoria flees to her home, but Lee and Wendy pursue her there and even manage to force their way into Mill Cottage.
Rapist Lee discovers Victoria is pregnant!
Then in a cruel twist of fate Victoria falls over and a worried Diane accidentally reveals to Lee that Victoria is pregnant.
Isabel goes on to say that Victoria doesn't want Lee to have anything to do with her baby.
"As far as Victoria is concerned, the pregnancy is none of Wendy or Lee's business. Now that they know, it opens up a whole can of worms."
So, what will Lee's next move? And can Victoria ever get justice?
Emmerdale continues tonight on ITV.
Get the latest updates, reviews and unmissable series to watch and more!
Thank you for signing up to Whattowatch. You will receive a verification email shortly.
There was a problem. Please refresh the page and try again.