'Extraordinary' Kimberly Wyatt wins Celebrity MasterChef 2015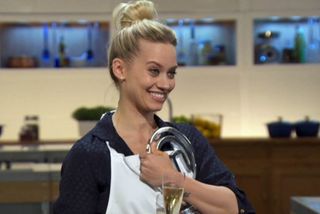 She wanted to win for her eight-month-old daughter Willow - and Kimberly Wyatt (opens in new tab) did just that with her "food that gets to my soul" in the final of Celebrity MasterChef 2015.
Former Pussycat Doll Kimberly was up against singer/TV presenter Sam Nixon (opens in new tab) and reality TV star Rylan Clark (opens in new tab) in the final.
Each finalist faced two challenges: cooking in chef Angela Hartnett (opens in new tab)'s Michelin-star restaurant for five of the country's best chefs, then cooking a three-course meal for judges John Torode (opens in new tab) and Gregg Wallace (opens in new tab).
"Kimberly just nailed it," said Angela at her Murano restaurant in London, where Kimberly prepared soufflé desserts.
And she had never made a soufflé before.
Rylan had to cook a fish main dish - "and I've never touched a fish before," he said - and Sam had to cook a quail starter, "and I've never cooked or tasted quail before", he revealed.
So, a real challenge for all of them, which none of them failed but, already, Kimberly was nudging ahead in the competition…
Then it was back to the MasterChef (opens in new tab) kitchens, where Kimberly, Rylan and Sam each had to prepare a three-course meal.
Again, all three impressed judges John and Gregg, but it was Kimberly's food that totally blew them away.
"I've learned through English culture that food is the foundation of a good life, bringing people together," said American-born Kimberly, 33, who lives in London with her English husband, Max Rogers and their daughter.
Kimberly's starter of a seafood soup was, said Gregg, "a very sophisticated plate of food".
"A bowl of sweet, seafood loveliness," added John.
Then came her main course, a loin of lamb cooked in a salt crust and served on a bed of spinach, with a celeriac puree, roasted shallots and Jerusalem artichokes and a cherry tomato, rosemary, garlic, balsamic and olive oil sauce.
"That is an absolute triumph," Gregg told her. "The depth of flavour is incredible."
"You really care and I can taste it," John told Kimberly. "This food gets to my soul. Good on ya!"
Kimberly finished with her Sinatra cheesecake, so called because "it's done my way - sort of upside-down", Kimberly told John and Gregg. She served it with poached rhubarb topped with a rhubarb foam.
"It's a brave woman who messes with a cheesecake," Gregg told Kimberly - then he tasted it. "That is fan-tas-tic," he said. "Better than a cheesecake. I could easily eat two or three of them."
"But the most impressive thing is the rhubarb," John told her. "I love the sweet, sharp rhubarb and the foam… Put them together and it's great."
"Glad I produced something that gave you guys the yummy faces," said Kimberly.
Sam and Rylan gave Kimberly a big hug after those comments and you could see on Sam's face that he knew he wasn't going to win. Rylan just smiled the way he had through the whole contest.
Rylan's three courses of savoury macaroons, wagyu beff and shard chocolate with coffee ice cream were "clever" and "great", said John and Gregg. "But he gave himself too much to do and didn't finish off any of the plates the way he wanted."
Sam, who did a year at catering college before going into showbusiness via Pop Idol, prepared pea and ham minted soup, beef wellington and sticky toffee pudding with dandelion and burdock ice cream "all looked really good", said the judges.
"Sam defined his style in the final," said John. "We've said all along his food has been robust and classic and that's what he gave us."
But none of that was enough to beat Kimberly.
"She reached a level of sophistication that you can only find in restaurants," Gregg said.
"Each one of her courses was unassuming but they delivered in buckets," added John.
"Kimberly, today, was extraordinary."
And that made her the winner.
Get the latest updates, reviews and unmissable series to watch and more!
Thank you for signing up to Whattowatch. You will receive a verification email shortly.
There was a problem. Please refresh the page and try again.