'Angela Black' — air date, plot, cast and everything we know
'Angela Black' sees 'Downton Abbey' star Joanne Froggatt playing a housewife confronting her sinister reality.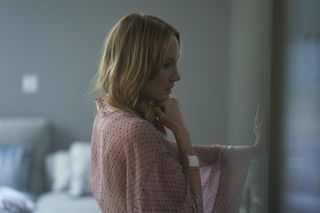 (Image credit: TWO BROTHERS PICTURES / photographer DES WILLIE)
Angela Black is a six-part series that sees Downton Abbey star Joanne Froggatt in the role of the title character, a victim of domestic abuse who is forced to face her worst fears.
The series is produced by the acclaimed team at Two Brothers Pictures who are known for their work on ITV thriller Liar.
Here's everything you need to know about the new crime thriller...
'Angela Black' air date
Angela Black is a six-part drama and started on ITV on Sunday, Oct. 10 at 9pm. It now airs in the same slot each Sunday evening after The Larkins.
The final episode will air Sunday, Nov. 14 at 9pm on ITV.
What is 'Angela Black' about?
Angela Black seems to be living a completely happy life in suburban London. She works as a volunteer at a dogs' home, is married to charming provider Olivier (Michiel Huisman) and the couple has two sons.
But Angela's domestic idyll is a fraud that hides the terrifying truth; Angela Black is the victim of domestic abuse and trapped in a marriage she can't escape.
This changes when Angela is unexpectedly approached by private investigator Ed (Samuel Adewunmi). For reasons as yet unknown Ed reveals Olivier's most sinister secrets to Angela, changing the course of the frightened woman's life.
Angela is faced with a decision - continue to suffer at the hands of Olivier or fight for her freedom. But can she trust mystery man Ed?
ANGELA BLACKThis is happening! I'm so passionate about this project & so grateful to be back filming again. I'm in awe of our incredible team. There is an army of creative, talented, dedicated people behind the scenes, bringing our story to life. #savethearts #AngelaBlack pic.twitter.com/ZgY2TuoVXuOctober 14, 2020
Is there a trailer?
Yes, ITV has now released a short trailer on ITV Hub. ITV has warned that it contains scenes "some viewers may find upsetting".
Who's who in 'Angela Black'
Angela Black (Joanne Froggatt)
Mum-of-two Angela appears to be living her best life, but she actually suffers daily domestic abuse from her controlling husband Olivier.
Joanne Froggatt's breakout role was as Zoe Tattersall in Coronation Street (1997-98). Since then she's starred in cult classic Life on Mars, A Street Cat Named Bob, The Commons, and Liar. But she is best known for her award-winning role as Anna Bates in Downton Abbey.
Speak of her role Joanne said: "I am honoured to be working with Two Brothers Pictures again and this important and timely story from the brilliant Harry and Jack Williams is like nothing I've read before. Angela is a complex and intriguing character and I hope audiences will be immediately drawn into her gripping, and sometimes heart-breaking journey, just as I was."
Olivier (Michiel Huisman)
Appearances are deceptive when it comes to Olivier. On the surface a hard-working family man, he's constructed a picture-perfect family life that belies domestic abuse and sinister secrets from his past.
Dutch actor Michiel Huisman is best known for his work on Margot, World War Z, Nashville, Orphan Black, the new HBO Max exclusive The Flight Attendant, and of course Game of Thrones.
Michiel says: "I'm proud to be part of such a thrilling and clever story with so many twists and turns. I can't wait to take on the role of Olivier and work alongside the incredibly talented Joanne and Samuel."
Ed (Samuel Adewunmi)
Private investigator Ed makes shocking disclosures to Angela about her abusive husband, but does he have ulterior motives?
Samuel Adewunmi made his TV debut in The Missing and has since starred in The Hatton Garden Job, Doctor Who, Stan Lee's Lucky Man, and is due to play villain Carcer Dun in the soon-to-be-released TV series The Watch, loosely based on characters and adventures from Terry Pratchett's Discworld.
Samuel says that he knew he wanted to play Ed immediately: "I always find myself drawn to characters like Ed when watching or reading dramas, and it's no different with Angela Black. That coupled with the opportunity to collaborate with Craig Viveiros (again) as well as Harry and Jack Williams on a compelling story like Angela Black is very exciting and fortuitous when considering the impact 2020 has had on all industries including film and TV. I feel blessed."
Other actors attached to ITV's Angela Black project include Henry Douthwaite (Wuthering Heights), Ambreen Razia (Trigonometry), Barry Aird (Fortitude) and Jade Anouka (His Dark Materials).
What happened in episode one of 'Angela Black'?
The first episode of this chilling psychological thriller saw Angela being subjected to harrowing violence at the hands of her husband within the first five minutes. Not only did Olivier leave her with a bloodied and bruised face, but also knocked one of Angela's teeth out.
But, while Anglea tried to cover up what was happening at home by blaming her injuries on an accident with a door, it soon became apparent there was another sinister layer to this drama when a mysterious stranger called Ed started following her.
After collecting her kids from a sleepover, Angela realised a man who she had briefly met the evening before while escaping the toxic environment at home, was following her in the car. Despite managing to shake him off, he then tracked her down in the park as her two boys played.
Ed introduced himself as a man who 'helps people sort things' and told Angela that Olivier has hired him to follow her and dig up dirt that he could use against her in a custody battle when he filed for divorce. The news came as a shock to Angela, who although knew her husband could be violent, didn't realise he had a secret agenda.
Angela didn't trust anything Ed said at first, but he was adamant that he was telling the truth and won her round. Angela then asked him to follow Olivier, but he refused, saying he didn't want to get involved. However, just days later he was back, this time appearing mysteriously at Angela's kitchen window one evening during a storm. This time Ed came with the chilling news that Olivier had ramped up his request and had asked Ed to kill her.
In shock from the news, Angela reluctantly took a phone from Ed as he told her that she could call him any time he needed her, claiming he was looking after her wellbeing. But fans are convinced Ed has an ulterior motive, or that in fact that he perhaps doesn't exist at all and is just a figment of Angela's imagination.
What happened in episode two of 'Angela Black'?
Episode two of Angela Black kicked off with Angela trying to quiz Olivier about his missing colleague Yuki, who Ed claimed in episode one had been murdered by Olivier.
While her husband wasn't giving anything away, Angela met Ed in a market and he told her that she needed to find out what Olivier had hidden in his suitcase. After almost getting caught out when she broke into Olivier's office in the middle of the night, failing to get into his briefcase, but accidentally knocking over a fountain pen that then leaked all over the office carpet, Angela finally got the chance to break into the case when Olivier accidentally left it behind one morning. After a race against time getting into the briefcase before the courier turned up to retrieve it, Angela finally found a handwritten letter that Yuki had sent, along with a picture of her in underwear.
Adamant that they should go to the police with this evidence, Angela begged Ed to go with her. However, Ed quickly reminded her that if he knew everything about her, then the police certainly would... even about Edgewater. While we are no closer to finding out what Edgewater actually is, this hints that something sinister has gone on in Angela's past. Later Ed took Angela to some woods, claiming that this is the spot where he and Ed buried Yuki's body, before telling him that his solution to her troubles was for him to kill Olivier.
But, sick of the lies, Angela told him she wasn't interested. However, at the end of the episode, she admitted to her sons that she'd replaced their pet rabbit, who had been eaten by a fox, with a different one, leaving them both in tears. But is this the only lie she is about to confess, or is there something much more sinister about to unfold?
What happened in episode three of 'Angela Black'?
Episode three of Angela Black begins with Ed reaching out to Angela to tell her that they have to get rid of Olivier that evening. He tells her to get send the kids away for the night and gives her some sleeping tablets to slip Olivier. Ed then instructs her to leave the back door unlocked and switch off the lights as a signal to Ed.
Angela is then supposed to run over to a neighbour's house and ask to call the police because there's an intruder in her home. Meanwhile, Ed will sneak in to carry out the murder.
Angela follows the plan to the letter and rushes back across the road to her home when the police arrive to find out what happened. To her surprise, Olivier emerges from the house completely unscathed. Ed questions Angela to try and understand why there's no evidence of a break-in. He also shows her how to use an old rifle that his grandfather left him so she can protect herself if something happens again in the future.
After trying to reach him a couple of times, Angela meets Ed again later on, where he explains what happened and tells her they should try again because he's going to try and figure out what happened.
Olivier leaves Angela alone in the house, and she receives a phone call from Ed after she's put the kids to bed. Ed explains that Olivier has figured out they tried to kill him and is after them both and tells her to run. Angela rushes to wake both the kids and then grabs the gun from downstairs when she sees a car in the drive.
She makes a stand with the rifle at the front door, but Olivier slips in through the back, followed by the police. They place Angela under arrest, leaving Olivier with the kids.
In custody, Angela is questioned about what happened. She tells them all about Ed, and Yuki, but the police reveal that they found no evidence of Ed and that the home she had supposedly been meeting him at has been empty for months. They also didn't find any trace of him on the CCTV at the house the night of the break-in, nor do they find the phone that Ed gave her.
They also present her with a novel that is exactly the same as Angela's story and has been written by Ed Harrison, suggesting that Angela has had a mental breakdown and that Ed is not real. Because of this and "the history of events at Edgewater", Angela is set to be admitted to hospital under the Mental Health Act. Is Ed real? Or has she made him up?
What happened in episode four of 'Angela Black'?
Episode four saw more of Angela's back story explained, and we now finally know what happened at Edgewater. It turns out that Edgewater is actually a leisure centre, where a sleep-deprived Angela almost drowned her baby son, believing that he was Jesus and able to walk on water.
Her belief that her son was an incarnation of Jesus came after her mum passed away at 2am, the exact same time that her baby son, who had been crying since birth, seemingly miraculously stopped and became a much more contented baby.
But as well as learning this isn't the first time that Angela has been in a mental health unit, we also discovered that Olivier's abuse has been going on for years. The episode saw a flashback showing Angela's husband hiding that her dying mother had been trying to get in touch with her, as well as seeing Angela having to lie about the fact she had been to her own mum's funeral after she'd passed away.
After receiving treatment at the hospital, Angela was released from the unit but soon faced a huge fight with Olivier in court so that she could see her sons. She was granted four hours a week, something that left her heartbroken, and Olivier clearly thrilled.
The episode closed with Angela looking for Ed, the man who everyone had convinced her was a figment of her imagination. After spotting a football badge on the drawing she did of Ed while in hospital, Angela searched the team online and tracked him down at a local football match. It wasn't long before Angela saw Ed, and from the look on Ed's face when their eyes met across the pitch, it seems he definitely recognises her, too.
So Ed IS real... but will he admit to their shared dark past?
What happened in episode five of 'Angela Black'?
The fifth episode of Angela Black saw Angela corner Ed at a football match, where she discovered his real name is actually Theo Walters. Theo wanted nothing to do with Angela, and we soon discovered this is because he has been working with Olivier all along.
With Angela slowly returning to be the woman she was before Olivier began his coercive control, Angela was determined to work out exactly what has been going on between her husband and the mysterious Theo.
After doing some digging on Theo, Angela cornered one of Theo's ex-girlfriends in a nail salon, trying to find out more about his past. Although the nail technician was surprised to be grilled by a stranger about her ex, she was soon spilling the beans about Theo's financial struggles and leading to Angela working out the truth about what happened on Halloween night.
After learning from Theo's ex that his car dealership had been burned down, leading to him receiving a massive insurance payout, Angela got her hands on Olivier's bank statements and saw he bought £90 of petrol on the night that Theo's business went up in flames.
Having worked out that Olivier was the one who torched the car showroom, Angela realised this was in return for Theo turning up in Angela's life and convincing her that Olivier was trying to have her killed.
With all the pieces finally fitting together, Angela just needed proof that she could take to the police and prove that her husband has been trying to frame her. However, when she went to the petrol station and asked to see the CCTV, it later turned out that Theo had been following her when she found the CCTV system smashed up and the petrol station assistant badly beaten.
Determined to confront Olivier with what she knew, Angela went to their house, only for him to start attacking her on the front doorstep. He only stopped when their eldest son came out, having been woken by the noise. But with Angela's determination to get her kids back, can she prove Olivier has been coercively controlling her? With the CCTV footage now gone, where else can she look for proof that she is the victim in all of this?
What happened in episode six of 'Angela Black'?
The final installment of Angela Black saw Angela turning the tables on Olivier, finally getting revenge for the years of abuse that he had subjected her to.
After realising that Theo and Olivier had been working together, Angela was more determined than ever to get her kids back. But with none of the authorities believing her version of events, she was pushed to drastic measures and took the boys from school and drove to a remote caravan park in Wales with the hope that Olivier wouldn't be able to find them. At first, it seemed her plan might work, however, when the boys disobeyed her by switching on her phone and contacting their friends, Olivier was able to use a tracking app that he had on the phone and find them.
After Olivier snatched the boys away when her back was turned, Angela realised she would need to play Olivier at his own games if she wanted to stand a chance of getting her life back on track. With the police still believing Olivier's version of events, Angela played dirty and tracked down Craig Mantle, an old associate of Theo Walters who had also owed him a favour, this time in exchange for putting a man in prison.
After giving Theo her wedding and engagement rings as payment, Angela persuaded him to work with her and she broke into his car showroom, Mantle Motors (which had been signed over to him as part of the dodgy exchange with Craig Mantle) and started smashing up expensive cars. Meanwhile, Theo went to Olivier's and told him what was happening, before the two of them went to the car showroom to confront her. But little did Olivier know, Theo and Angela were now working together, and soon they had him bundled into the boot of a car before hitting each other with a crowbar and framing Olivier for the attack when the police arrived.
Both Angela and Theo claimed that Olivier had beaten them in a fit of jealousy, and their story seemed to fit when in his police interview, Olivier was later shown CCTV evidence of him attacking Angela on his doorstep, which happened in episode five.
But as Olivier was carted off by the police, it soon became apparent that Angela was far from finished. As Theo chatted to Angela on the phone while packing up his flat, his blood ran cold when she turned the tables on him as well, telling him she'd tracked down the gang member who was serving time in jail thanks to Theo's false testimony. As they talked, a loud bang was heard on Theo's front door, suggesting that his dodgy past was finally catching up with him, too.
The end of the episode saw Angela talking to her lawyer, who told her that Olivier would be going to jail for a very long time, and later she was seen playing a piano, just one of the many things Olivier had forbidden her to do, hinting that she was finally free from her abusive husband once and for all.
Production details for 'Angela Black'
Angela Black is a Two Brothers Pictures (an all3media company) production, headed up by award-winning writers Jack and Harry Williams (The Missing, Liar, The Widow). They executive produce the series alongside Two Brothers Pictures Head of Drama, Christopher Aird (Baptiste, Liar, Clique) and Sarah Hammond (Fleabag, Back to Life).
Angela Black is produced by Natasha Romaniuk (Fleabag, The Spilt S2) and directed by Craig Viveiros (Rillington Place, And Then There Were None). Angela Black has been commissioned in the UK by ITV and by Spectrum in the USA.
Writers Jack and Harry said: "We are thrilled to be working again with the brilliantly talented Joanne, and to have her joined by such amazing actors as Michiel and Samuel is more than we could have hoped for. This script is unlike anything we've written before - and there's no one better than Craig to bring this dark, Hitchcockian psychological thriller to life"
Get the latest updates, reviews and unmissable series to watch and more!
Writer for TV Times, What's On TV, TV & Satellite Week and What To Watch
With twenty years of experience as an entertainment journalist, Elaine writes for What's on TV, TV Times, TV & Satellite Week and (opens in new tab)www.whattowatch.com (opens in new tab) covering a variety of programs from gardening and wildlife to documentaries and drama.
As well as active involvement in the WTW family's social media accounts, she has been known to get chatty on the red carpet and wander into the odd podcast.
After a day of previewing TV, writing about TV and interviewing TV stars, Elaine likes nothing than to relax… by watching TV.
Thank you for signing up to Whattowatch. You will receive a verification email shortly.
There was a problem. Please refresh the page and try again.