Forbidden couple to get caught out in TONIGHT'S EastEnders?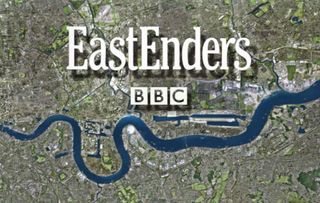 There's trouble heading for EastEnders as Keanu and Sharon struggle to keep their eyes off each other...
Sharon Mitchell and Keanu Taylor's shock affair could be exposed tonight when Louise Mitchell almost catches them together in the toilets at the Queen Vic.
Last night's EastEnders saw Sharon make a surprise return from her trip to Australia, just at the moment that Keanu was locking lips with her stepdaughter Louise.
But with Sharon and Keanu still clearly having the hots for each other, where does this leave the mechanic's budding romance with Louise?
As everyone celebrates Denise Fox's 50th birthday in the pub tonight, Keanu and Sharon struggle to keep their eyes off one another.
Even the fact that Keanu is supposed to be at the bash with Louise doesn't stop him lusting over Phil Mitchell's wife, clearly desperate to pick up where they left off before Christmas.
And it seems Sharon's trip to the other side of the world has done nothing to cool her feelings for her toyboy.
Even though she text Keanu over Christmas to remind him things were through, now she is back it seems Sharon could be regretting her decision.
Desperate to talk, Keanu follows Sharon into the toilets at the Vic tonight, and is quick to tell her how much he has missed her while she's been away.
But when Sharon makes a dig that he can't have missed her that much seeing as he has been seeing Louise, Keanu reminds her that she was the one who called time on their romance, not him.
But before the pair can discuss where they go from here, Louise walks in and Sharon is forced to Keanu sneak out.
But have they managed to get away with their sneaky toilet chat, or has Louise heard more than they realise?
If news of their fling gets out, it's not just Phil who will be on the warpath now, but also Louise.
We wouldn't like to be in Keanu's shoes with two Mitchells after him!
Later this week the pair will continue to try and work out what the future holds for them... but with Sharon adamant that their fling is over, things don't look hopeful.
EastEnders airs Monday and Friday at 8pm and Tuesday and Thursday at 7.30pm on BBC One.
Get the latest updates, reviews and unmissable series to watch and more!
Thank you for signing up to Whattowatch. You will receive a verification email shortly.
There was a problem. Please refresh the page and try again.