Former X-Factor finalist Ray Quinn joins Hollyoaks! Watch the exciting new winter trailer here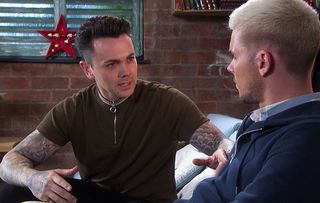 Former X-Factor star and Brookside actor Ray Quinn joins Hollyoaks as a friend of Ste's, Sinead's past is exposed and will Breda McQueen kill again? Watch the explosive new trailer with all the winter action...
There will be plenty of explosive new drama heading to Hollyoaks in the run up to Christmas when Ray Quinn, who shot to fame in Liverpool soap, Brookside as troubled schoolboy Anthony Murray,  joins the cast playing Ste's friend Jonny.
Thirty-year-old Ray, who was a runner up to Leona Lewis in The X Factor 2006, and was also crowned champ of Dancing on Ice in 2009, arrives in Chester later this month as Jonny who teams up with his old pal Ste (Kieron Richardson) to help him with his vendetta against Misbah Malik.
When Ste vows that Misbah, who accidentally killed his sister Tegan, deserves everything she gets, Johnny tells Ste he's on his side. Will the pair prove to be a dangerous duo?
Meanwhile killer Breda McQueen  looks set to take another life in the run up to Christmas and Sinead's humiliated when vicious Donna Marie (Lucy-Jo Hudson) exposes her true colours during a school nativity play! Plus with love triangles spiralling out of control and a winter wedding in the offing, the scene is set for an explosive couple of months as secrets and lies reach a head.
Watch the explosive new Hollyoaks winter trailer here...
https://www.youtube.com/watch?v=idkGq3Y4YBY
Will Breda kill again?
Goldie is charged for murdering Russ, although it was actually her mother, Breda who killed him. Despite writing a letter saying 'I am the killer you're looking for', it seems that Breda might kill again as she is seen standing over a lifeless body saying, "sorry, bad dads don't get second chances" … Meanwhile, Mercedes and Sylver share a kiss and Christmas doesn't go to plan when Mercedes presents a burnt turkey and pours gravy over Goldie's head.
Sinead is humiliated by Donna Marie
Sinead was never going to make a quiet return to the village and, in the trailer, she can be seen warning Sienna away from her husband, Laurie as well as being exposed as a former prostitute by newcomer, Donna-Marie (played by Lucy-Jo Hudson). Viewers know that Sienna has dreams of becoming a teacher, while Laurie also has ambitions to be the new deputy headteacher at Hollyoaks High. Will they become more than work-mates or is Sinead worrying over nothing? Meanwhile, Donna-Marie takes great pleasure in revealing Sinead's past to the audience and Laurie at the Nativity play, with Sinead dressed as the Virgin Mary.
Mandy visits Luke in prison
As Mandy and Darren try to look forward to their first Christmas together and the arrival of their baby, there seems to be trouble in paradise with Mandy worrying that it all might be too much for Darren to handle. She visits Luke in prison but what does she have to tell him?
Winter wedding bells? Leela proposes to Louis
Leela is unaware that Louis is already married to Simone's sister, Martine and that he's been sleeping with Simone behind her back. She proposes to him and he accepts but will he become a bigamist before he gives up one of his ladies?
Romeo betrays Prince and lies to Lily
Lily is confused by Prince's cagey behaviour but it's Romeo that Prince confides in when he reveals that he's found a lump. However, this doesn't seem to stop Romeo in his bid to win Lily's heart as they're seen kissing and Romeo tells her that Prince is seeing someone else.
Yasmine begs Misbah to come clean
Yasmine is desperate for her mum to stop making excuses for Imran's abuse. She shows her mum that he's been hurting her too by lifting up her top to reveal the bruises on her stomach, leaving Misbah appalled. Misbah goes to the police station but will she find the strength to tell the truth and get Imran the help he needs?
Get the latest updates, reviews and unmissable series to watch and more!
Thank you for signing up to Whattowatch. You will receive a verification email shortly.
There was a problem. Please refresh the page and try again.