Emmerdale's Michael Praed: Tracy has her father Frank arrested!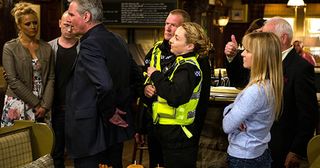 (Image credit: Mark Bruce)
Vanessa and Tracy have discovered they share a father, Frank, but Tracy doesn't want him anywhere near Emmerdale and has him arrested, reveals Michael Praed
Jailbird Frank Clayton arrives in Emmerdale to rebuild his relationship with his estranged daughters, Vanessa Woodfield and Tracy Shankley. But it may turn out to be a very short and not at all sweet stay for him! Michael Praed explains explains all to Soaplife.
What sort of relationship does Frank have with Vanessa and Tracy then? "He's been estranged from both Tracy [Amy Walsh] and Vanessa [Michelle Hardwick] for quite a long time, but he was around in Vanessa's life a bit longer. He seems to have more feelings for Vanessa, but he wants to build bridges with both of them. He'll also look at it as an opportunity to have a place to stay and have the bills paid."
So, what sort of man is Frank? "He's a bit of a rascal and he is certainly an opportunist. I like the idea he's an educated man. He's been to Cambridge, but he doesn't like Shakespeare. If you ask him, he'll argue the case well. He has an issue with the plotting, you see. He can be the life and soul of the party and he's well liked, but there'll always be somebody who thinks 'There's something dodgy about this guy…'"
What happens when Vanessa takes Frank to the pub? "Well, she hasn't told Tracy that he is moving in with her. So when Tracy sees them together she flips and Frank, wanting to avoid a confrontation, pretends to faint."
Then Tracy overhears Frank tell Vanessa she's all he cares about… "But he doesn't know she's overheard this. She's so upset that she comes up with a plan to teach him a lesson. He gets arrested for stealing a wallet, but it's planted on him by Tracy. As an ex-prisoner, he could go back to jail for this."
Emmerdale, ITV
Get the latest updates, reviews and unmissable series to watch and more!
Thank you for signing up to Whattowatch. You will receive a verification email shortly.
There was a problem. Please refresh the page and try again.