EastEnders' Harry Reid: 'Ben's capable of exploding and Paul's killers have lit the fuse'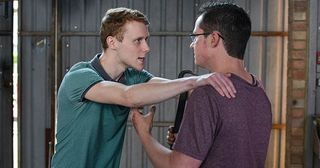 (Image credit: BBC/Jack Barnes)
Ben knows where to find Paul's killers in EastEnders, so will he take a life for a life, or can someone stop him? Harry Reid provides the insights
Jay gives Ben Mitchell an address that will take him to those who killed his lover, Paul. Tormented by grief and guilt, will Ben turn murderer to get revenge? EastEnders' Harry Reid tells Soaplife that he fears he could…
How is Ben feeling in the wake of Paul's murder? "He spent a lifetime thinking he couldn't be openly gay in public. That's what his dad, Phil, told him. Then, when he finally bit the bullet and shared a moment of real love with Paul [Jonny Labey] as they held hands coming out of a club, it was all taken away from him.
"Ben really loved Paul and now he's angry. Paul was harmless and all Ben can think about every single day is some bloke stamping on his face. That's a grim image when you think of it happening to the type of person who will not fight back."
What does he plan to do with the address Jay gives him? "Well, he could be dangerous. This is Ben when he's had something taken from him that meant everything and we haven't yet seen what he is capable of. Louise [Tilly Keeper] is trying to stop him and Jay [Jamie Borthwick] from taking this into their own hands.
"Ben's capable of exploding and Paul's killers have lit the fuse. Or he could take notice of some of the calmer heads around him."
Are Ben and Jay are biting off more than they can chew? "They're brothers and they look out for each other. But they are out of their depth. They don't know much about the guys who killed Paul. They could be pussycats or they could be nutters – and the latter is more likely. So do they take them on or call the police? The problem is, they're not grasses. It's a difficult one."
How are things between Ben and Phil? "They'll always struggle. They'll never come to an agreement because Phil [Steve McFadden] doesn't like the fact his son is gay. He's trying, but there are things he simply cannot accept."
EastEnders, BBC1
Get the latest updates, reviews and unmissable series to watch and more!
Thank you for signing up to Whattowatch. You will receive a verification email shortly.
There was a problem. Please refresh the page and try again.