In The Club's Jill Halfpenny: 'Something major happens. You think: 'How much can Rick mess up?''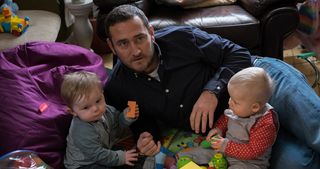 (Image credit: BBC/Rollem/Matt Squire)
Diane regrets letting husband Rick lend a hand, when his help ends up being more of a hindrance in next week's In The Club (BBC1, Tuesday, May 17), as Jill Halfpenny reveals…
How has Diane been coping since Rick (Line of Duty's Will Mellor) went to prison for armed robbery? Is she more independent?
"Diane has become very independent, but not through choice; it's been a nightmare without Rick. With twin babies, two adopted kids and no salary coming in, Diane had to find a job, so decided to become a childminder – and look after MORE kids! Diane's lifestyle became very hectic – she was feeling desperate, stressed and just wanted her husband back!"
Diane got her wish when Rick was released from prison last week. Has he settled back into the family home?
"Diane's got everything running like a military operation, so there's now a awkward situation where, although she wanted Rick back, he's not doing things the way she's used to doing them. She wants to make him feel welcome, but now he almost feels like a bit of stranger in his own home."
Diane's worried about how premature twin Hope is developing, so Rick offers to hold the fort at home while Diane takes the tot for an assessment at the hospital. But something goes wrong while she's out – what can you tell us?
"Let's just say, something quite major happens and Rick and Diane soon have a whole other set of problems upon them. You do think: 'How much can Rick mess up?'"


With a house full of kids, Rick (Will Mellor) has got a lot on his plate
With Diane being a childminder and having four kids of her own, you're working with lots of children on set at once. What's that like?
"Well, we rehearse with dolls, so that you can concentrate on what you want to deliver yourself in the performance, but then the kids and babies are brought in and they just change everything – kids are comical and very unpredictable, but I think that makes it more authentic and more natural."
Sounds pretty full on, though…
"There was a scene earlier this series where I'm feeding the twins, while trying to get the older ones off to school, so it's certainly chaotic! Nobody would want to be in Diane's situation – it's a struggle, but plenty of women do it."
As a mum yourself to seven-year-old Harvey, what do you think of the way In The Club portrays the realities of parenting?
"It's taboo for women to admit that every part of motherhood isn't amazing, and to say they're lonely or too tired. That's what many feel, yet we're made to think we should be superwomen. Hopefully people watching will go: 'Thank god, I thought it was just me!'"
How do you deal with being away from Harvey when you're working?
"I share my responsibilities with Harvey's dad anyway, but I do find it really hard… 'Mum guilt' is just engrained in you. Even if you know they're happy and they're safe and they've got everything they need, it feels odd sometimes for me to be away from him. Though, even when I'm with him, the guilt's still there! Am I doing the right thing? Am I feeding him the right food? Doing the right amount of homework?"
It's almost like you've got to be perfect at everything...
"Yeah, and you're never gonna be… well, I'm never gonna be! You physically start to ache when you've been away too long. It's too painful and you think: 'I just have to see him'. I wouldn't like to go longer than two weeks. It was a long time ago that I might have gone three weeks, possibly, and that was actually really unpleasant, I really didn't like it. Kids are just part of you, aren't they?"
Finally, which of the TV shows you've been in do you mostly get recognised for?
"I'd say it's probably between EastEnders and Strictly [Jill won the show in 2004]. They'll say: 'You were in EastEnders, innit?!' But some days people go as far back as Byker Grove!"
In The Club continues on Tuesdays at 9pm on BBC1
Get the latest updates, reviews and unmissable series to watch and more!
Thank you for signing up to Whattowatch. You will receive a verification email shortly.
There was a problem. Please refresh the page and try again.