Karthik Nagesan leaves The Apprentice in double sacking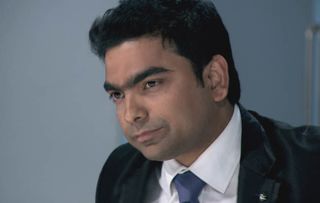 (Image credit: BBC)
Lord Sugar fired two contestants on the latest episode of The Apprentice, including colourful project manager Karthik Nagesan
It wasn't plain sailing for candidates in the latest episode of The Apprentice as two more hopeful entrepreneurs were fired by an unrelenting Lord Sugar.
This week's task to sell high-end boat show equipment proved to be too much for Karthik Nagesan in his role as team leader for the Titans, after a dismal loss saw them take just £188 compared with Nebula's £40,480.
But it didn't stop a lot of people loving him in the managerial position…
That did, of course, include Karthik himself, who's made something of a name for himself online for being a passionate follower of the show, as well as a contestant.
Not even the torrential rain at that boat show could dampen his mood…
That's the spirit.
With his usual good humour in tow, the self styled 'Presenter, Speaker, Startup Mentor' continued to make gaffes as team Titans flip-flopped their way to one of the biggest losses the show has ever seen.
Alas, not even Karthik's good humour could see him out of the sticky situation that ensued.
It didn't take long before Lord Sugar roundly fired him, saying: "You have been an abysmal team manager. I don't trust you to bring anyone back into this board room."
And it didn't stop there.
Samuel's decision to defy his team's pricing guidelines proved fatal when he failed to sell the team's stock of fish cushions, despite bumping them down to the recommended retail price of £29.99.
Lord Sugar fired him shortly afterwards.
The remaining team members will now battle on to host an event at one of London's tourist hotspots next week.
Sadly Karthik won't be there to join them – but that's not to say we can't still ponder him from afar.
Get the latest updates, reviews and unmissable series to watch and more!
Thank you for signing up to Whattowatch. You will receive a verification email shortly.
There was a problem. Please refresh the page and try again.