Kenny from The Challenge is the first to find out about this season's big twist
Kenny from The Challenge: Rides or Dies got eliminated this week—or did he? Fans weigh in on that game-changing twist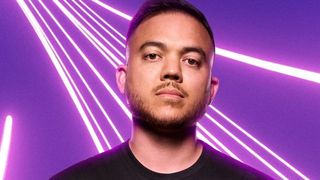 (Image credit: MTV)
We thought we'd already seen this season's big twist, but Kenny from The Challenge season 38 quickly learned that host T.J. Lavin wasn't quite finished shaking up the MTV competition this season.
Wednesday night's episode was the first after Lavin split up The Challenge season 38 cast from their previous ride-or-die teammates and created two brand-new teams, as chosen by team captains Faysal Shafaat and Moriah Jadea.
Team one consists of Shafaat, Johnny "Bananas," Tori Deal, Nelson Thomas, Aneesa Ferreira, Kaycee Clark, Chauncey Palmer and Olivia Kayser. The second team contains Jadea, Jordan Wiseley, Nany González, Devin Walker, Amber Borzotra, Horacio Gutierrez, Kenny Clark and Nurys Mateo. That makes for some drama throughout the episode, with teammates wanting to protect their former partners—and in Kaycee's case, her own brother Kenny—while working in the best interest of their new team.
During this week's challenge—a last-man-standing smackdown in which players have to wrestle their opponent off a narrow platform suspended above water—Team Faysal proves victorious and it's not a huge surprise, seeing as how that lineup has the upper hand in terms of size and experience. It ends up being a guys' elimination day, which means the entire team gets to interrogate the losing team's four male competitors: Devin, Horacio, Kenny and Jordan.
In the interrogation room, Kaycee advocates keeping her brother in the game and going for a bigger target like veterans Jordan or Devin. However, Kenny himself wants to go into The Zone. "I'd rather battle it out versus Horacio, another rookie, than Devin or Jordan," he tells them, saying he wants some control over what happens to him.
In the end, the team decides to vote Horacio directly into The Zone, leaving the fate of the three other male competitors up to the dagger draw. Devin draws the safe dagger and has to choose between Kenny and Jordan to join Horacio in the elimination comp, ultimately picking the latter to save.
In the elimination battle, in which Horacio and Kenny have to break through a series of locked barriers with a variety of tools, Horacio ultimately wins, leaving Kaycee tearful at having to say goodbye to her departing brother.
However, it looks like it might not actually be goodbye, as T.J. brings Kenny back out after the rest of the players have left the elimination arena. "You just got eliminated but in this game, you live and die by your ride-or-die," he tells him "So Kaycee stays in the game and you still have a chance. If she keeps from getting eliminated, then this is your shot to get back in the game and win one million dollars."
Talk about a twist!
Fans react to Kenny from The Challenge's non-elimination:
Get the latest updates, reviews and unmissable series to watch and more!
Christina Izzo is the Deputy Editor of My Imperfect Life. More generally, she is a writer-editor covering food and drink, travel, lifestyle and culture in New York City. She was previously the Features Editor at Rachael Ray In Season and Reveal, as well as the Food & Drink Editor and chief restaurant critic at Time Out New York.
When she's not doing all that, she can probably be found eating cheese somewhere.
Thank you for signing up to Whattowatch. You will receive a verification email shortly.
There was a problem. Please refresh the page and try again.