Emmerdale's Laura Norton reveals Kerry wants a termination and to forget Ross ever happened!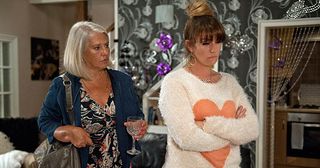 (Image credit: Andrew Boyce)
A stunned Kerry Wyatt takes drastic action when she learns she's pregnant and she fears Ross could be the baby's dad! Laura Norton explains all to Soaplife…
Her fella Dan Spencer's popped the question and their relationship is back on track, but Kerry Wyatt is far from joyous in Emmerdale. She's been feeling sick and soon twigs she's pregnant, but there's no celebrating.
"She's convinced the baby will not be Dan's," actress Laura Norton told Soaplife. "She wants to get rid of it and forget the whole thing with Ross ever happened…"
Does Kerry regret sleeping with Ross? "Yes. She's racked with guilt over it. It was a classic Kerry move. She was so hurt Dan cheated on her with Nicola King that she lashed out and tried to hurt him back."
Is she scared of losing Dan? "That is the last thing she wants. He loves her for who she is, even with all her flaws, and she's never been treated like that before. That's why it was just too painful that Dan turned out to be like all the other men and cheated on her."
Does she still love Dan? "Yes. She sees now they got into a rut. She was being a bit selfish and taking him for granted."
How does she feel when she does a pregnancy test and it's positive? "She's gutted. She thinks she's being punished for what she did with Ross."
What makes her turn to Joanie Dingle for advice? "Joanie picks up that something's wrong with Kerry. She confides in her with some trepidation as she thinks she'll be judged, but she gets the opposite. Joanie's supportive and she tries to help Kerry come up with a solution."
Does Kerry consider confessing the situation to Dan? "She does… then she changes her mind. She's on a bit of a roller-coaster with this."
Why does she decide to have a termination? "Kerry's convinced it's her only option. She says to Joanie 'Don't try and talk me out of it. I need to get rid of it.'"
How does she feel when she's told she'll have to have a scan before she can book a termination? "That's bad news because she doesn't want to have to think too much about what she's doing. She just wants it over with so she can carry on life with Dan."
Get the What to Watch Newsletter
The latest updates, reviews and unmissable series to watch and more!