Christmas money saving 2017 - Martin Lewis gives his top tips!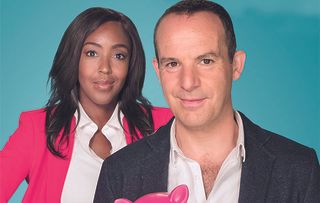 Christmas money saving tips! Martin Lewis launches his crusade to make us major savings over the festive season as his ITV show returns...
Martin Lewis bursts back onto our screens next week with a brand new series of his primetime ITV money-saving show – and the financial guru is more determined than ever to help make our cash go further this Christmas!
With new co-presenter, this year's Celebrity MasterChef winner Angellica Bell, at his side, Martin is kicking off the seventh series with a special live show.
TV Times caught up with Martin Lewis to discover his Christmas money saving tips...
What are your big tips for saving money this Christmas?
"One of the most popular parts of this week's show is always my 'Festive Forecaster'. The episode airs a few days before Black Friday and I'll be analysing what retailers have done in years gone by to predict what deals will be offered and what they'll be holding back this time. In recent years my accuracy rate has been 80 per cent, so I'm hoping it goes well again."
How much money has your 'Festive Forecaster' saved people in the past?
"Hundreds of pounds in some cases! Some people say they base their Christmas spending around it, which is always unnerving, because it's just a prediction. No pressure!"
What else can people do to keep their costs down over Christmas?
"I've been campaigning against people buying unnecessary gifts for years. Gifts for kids, grandchildren or your spouse are fine, but it's time to stop the ever-growing list of people we buy for, even when we've no idea what they want. If you buy tit-for-tat then everyone ends up with tat – and an empty wallet!"
You must be excited to start the series with a live show?
"It's going to be really exciting. We've done live segments before, but never a full hour. The show will be called 'Ask Me Anything' and I'll be fielding all sorts of questions and flying by the seat of my pants. If I mess it up, I'll make a fool of myself in front of four million viewers!"
Anything else to look out for?
"The best thing this series – my biggest-ever success. People always come up to me to tell me how much I've saved them but this was the first time I'd heard of a six-figure success – £103,000 they got back, which is amazing. I can't tell you what it was for, but it wasn't PPI. The first thing I thought was, 'What on Earth did I say?'"
How has Angellica fitted in?
"Angellica has done a great job of representing the viewer and keeping me in line. I'm a bit of a financial nerd, so I get caught up in the complex details of the finances and the numbers, and she's brilliant at slowing me down and getting me to explain things properly for the people at home. She's my screen wife and we work well that way. I know her hubby, Michael Underwood, from my GMTV days, so it's keeping it in the family!"
The show has gone from strength to strength – what is the secret of its success?
"I think what people like is that it's a conversation and not just a lecture. It's real and people can act on it. If we don't crash every website we're talking about, I'm disappointed because it means people aren't taking action. But often we do!
The Martin Lewis Money Show Live returns to ITV on Tuesday 21st November at 8.00pm.
Sean has been writing about all things telly for over 10 years and in that time he's been lucky enough to interview stars like Ian McKellen, Tom Hardy and Kate Winslet. His favourite shows are The Great British Bake-Off, People Just Do Nothing and Succession and in his spare time he enjoys drinking tea, doing crosswords and watching football.
Get the latest updates, reviews and unmissable series to watch and more!
Thank you for signing up to Whattowatch. You will receive a verification email shortly.
There was a problem. Please refresh the page and try again.