Mary Berry on her Absolute Favourites: 'I'm trying to give classic dishes a bit of a twist!'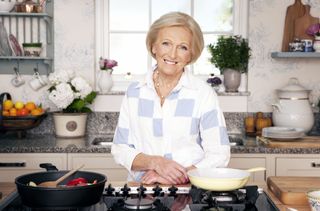 (Image credit: BBC/Shine TV)
The Great British Bake Off judge Mary Berry rustles up some classic recipes in her new BBC2 cooking show, from Friday, May 15…
What's the idea behind your new six-part series, Absolute Favourites?
"I've thought about all the things I've most enjoyed doing throughout my life, like childhood seaside holidays, visiting farmer's markets and growing my own veg. We all want to know where our food comes from. So, in Absolute Favourites, I do things I want to be reminded of or I go off to see how certain foods are made and it all fits around my recipes."
People know you best for being a judge on The Great British Bake Off. How would you describe your cooking style?
"In this show, I'm trying to give classic dishes a bit of a twist. I hope my recipes are fuss-free – you don't need enormous skill. I spend a lot of time in this programme showing people how to do things. I admire other TV chefs who can cut and chop at lightening speed, but I am the slowest person to cut up a vegetable!"
In the first episode, you visit Botany Bay in Kent. What's your earliest memory of family seaside holidays as a child?
"We'd stay on a farm in Devon and walk down to the beach every day. We'd go paddling, build sandcastles, have picnics and then come back about four o'clock and help with milking the cows, gathering eggs and going on tractor rides. I was a war baby, so these were frugal times."
Speaking of being frugal, you also go foraging for food in this series. Is that something you've always enjoyed doing?
"I've always loved foraging whether it's for blackberries, mushrooms or nuts – anything for free. You never know what you're going to find, so when I go out walking I always have a bag in my pocket, just in case."
In another episode, you go fly-fishing. What was that like?
"I've always wanted to go fly-fishing. We went down to the River Test in Hampshire and, yes, I did catch a fish. I had to cook it on the riverbank, which was a little tricky, as the fish was rather large and the frying pan I'd been given was tiny. But it tasted delicious!
Four of your five grandchildren also appear in this series. Are food and family the perfect combination?
"Yes, definitely! There's nothing better than cooking with children. My granddaughters, Abby and Grace, make three different kinds of biscuits while my grandsons, Louis and Hobie, make a chicken pasta bake. But I make sure I give the boys their own specific jobs to keep them apart in the kitchen because, as we know, boys will be boys!"
The Bake Off returns to BBC1 later this year. Do you still enjoy being a judge on the show?
"I think it's a very honest show and I'm always inspired by what the bakers produce – there's no way I could pull off some of the showstoppers! I'm happy to taste everybody's bakes – that's my job – but normally I don't eat lots of cake."
Get the latest updates, reviews and unmissable series to watch and more!
Thank you for signing up to Whattowatch. You will receive a verification email shortly.
There was a problem. Please refresh the page and try again.