'Noooo Linda!': Mick Carter's shocking Eastenders exit revealed?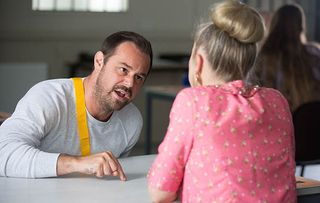 (Image credit: BBC)
It's been a rough ride for the EastEnders legend in prison, after a vicious rumour led his inmates to believe he's a pedophile, but could things be about to get a whole lot worse for Mick?
Mick Carter is facing the prospect of life behind bars after he was framed for the attempted murder of Stuart Highway (played by Ricky Champ).
And his time in prison took a chilling turn in last night's (September 25th) episode, when Stuart's old pal Fraser targeted the new inmate. Convincing his fellow prisoners that Mick was locked up for being a child molester, Fraser launched a vehement hate campaign against Mick, resulting in the character, played by Danny Dyer, fearing for life.
After confronting Fraser, Mick soon learned that Fraser's actions came with a chilling motive - as he's issued a tough ultimatum. Forced to go through with Fraser's evil demands, Mick betrays fellow inmate - and new friend - Bob, planting drugs on him to prevent his release as he comes to the end of his 15-year sentence.
And now it looks like the one person Mick thought he could rely on may turn their back on him too - his wife, Linda (played by Kelly Bright). Spoilers have revealed that her loyalty is set to waver - as she doubts whether Mick is innocent after all.
Considering the possibility that Mick did shoot Stuart, Linda considers turning her back on her husband. How much more can Mick possibly take?
And EastEnders fans are really feeling for Mick.
One twitter user wrote: 'NOOO Linda. The writers must really have it in massively for the Carter's what with Dean, Aidan and now Stuart all targeting them.'
Another added: 'How much more can Mick go through in prison?'
While a third made a chilling prediction for Mick's fate.
'Mick's only option is a noose now,' they wrote.
Will this shocking turn of events push Mick to his limits? Tune in tomorrow to find out...
EastEnders continues on Thursday at 7.30pm on BBC.
Get the latest updates, reviews and unmissable series to watch and more!
Thank you for signing up to Whattowatch. You will receive a verification email shortly.
There was a problem. Please refresh the page and try again.