Moonshot fans love 'killer chemistry' in 'cute' sci-fi rom-com
Audiences share their thoughts on Moonshot, Cole Sprouse and Lana Condor's new HBO Max film.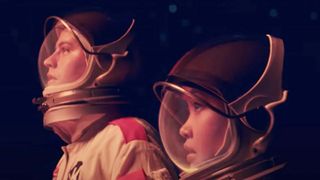 (Image credit: HBO)
Moonshot is officially here and fans are beyond excited to finally watch the new rom-com with a fun sci-fi twist!
The film stars Cole Sprouse, known for his work on Riverdale, as Walt and Lana Condor, known for her role in To All the Boys trilogy, as Sophie.
The official Moonshot summary reads: "A romantic comedy with a sci-fi twist, the film is set in a future where Mars is terraformed and colonized by the best humanity has to offer. Two very different college students wind up joining forces and sneak onboard a space shuttle to the red planet in order to be united with their significant others".
Condor was sure to share her excitement for the movie's release on social media, tweeting, "We hope you love this movie as much as we loved making it for you. Thank you always for your love and support, I love you all more than you know! Happy streaming xx."
Fans of the actress were quick to respond with how proud they were of her and her work on the movie.
Sprouse took a moment to post some behind the scenes content on Instagram with the caption, "Moonshot is out today on @hbomax ! Go and check it out if you like joy and laughter, avoid if you don't enjoy happiness. Here's some photos during production, every one has my face in it. So proud of everyone involved, congrats to the cast and crew on this our glorious release."
Many watched the film as soon as it came out, sharing their reactions on social media right after. Words like "comfort," "mesmerizing," "cute," and "charming" came to mind.
"#Moonshot on #HBOMax is one of my favorites movies of 2022 so far," a fan said.
"Also has a good message that we should be focused on saving the planet instead of abandoning it," another highlighted.
Others loved the dynamic between Sprouse and Condor, both on and off screen!
One viewer expressed, "The unexpectedly strong comedic and romantic chemistry between Cole Sprouse and Lana Condor makes it."
In all honesty, who doesn't love a good romantic comedy? We definitely do, and Moonshot is sure to check all the boxes from those cheesy but lovable relationship tropes to those relatable character moments. Plus, viewers get transported to space right alongside Sprouse and Condor.
The film is now streaming on HBO Max so be sure to sit back, relax, grab some popcorn, and fall in love with Sophie and Walt!
It's not yet been released in the UK.
Get the What to Watch Newsletter
The latest updates, reviews and unmissable series to watch and more!
Sophia Soto has a passion for all things entertainment. She is a member of The Hollywood Creative Alliance and currently writes for The Nerds of Color. You can also see her work on What To Watch, Remezcla, Looper, Den of Geek, Young Hollywood and more. Some of her favorite shows include Grey's Anatomy, The Goldbergs, Riverdale and Roswell, New Mexico. She is a complete Marvel nerd as well!