Strictly Ore Oduba: 'I'm on the best, sparkliest treadmill there is and I don't want to get off!'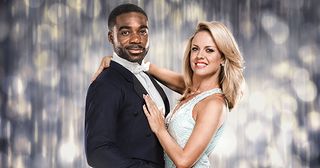 (Image credit: BBC/Jay Brooks/Matt Burlem)
Ore Oduba and Joanne Clifton talk about their amazing journey so far on Strictly and their hopes for the rest of the series
Strictly Come Dancing contestant Ore Oduba has gone from dance novice to favourite on the new series. Here, the BBC journalist and pro partner Joanne Clifton talk about their journey and the huge compliment paid them by Gene Kelly's widow...
You've been unstoppable since your Singin' in the Rain routine. Are you still reeling from the reaction? Ore: "It was mind-blowing! Everything came together and it was completely magical, that's why I couldn't stop bawling. I just couldn't help myself. Everyone's been really supportive, but I should have had more stick for the crying, because I didn't hold back…" Joanne: "It was one of the best nights of my whole career, even including some amazing professional dancing results. I felt so proud of Ore, who has now become one of my best friends."
It wasn't all plain sailing in rehearsals though, was it? Ore: "We had a bit of a nightmare with the umbrella. I was determined to throw it and flip it, but it really wasn't easy. I was having panic attacks on the Monday and I could barely sleep for fear that I would drop it. I kept that umbrella with me pretty much every second of the week and practised thousands of times." Joanne: "He called it Bertie. The problem was obviously we were training indoors and opening an umbrella brings bad luck. So we had to do a ritual: I made up a four line poem which we recited, we both put our hands on the umbrella, banged it on the floor three times and then opened it." Ore: "We're not witches!"
You must have been delighted to hear Gene Kelly's widow raving about the performance? Joanne: "It was incredible, I couldn't believe it. My dad rang me while I was asleep to tell me she had shared my Facebook post and then she wrote personally to Ore to say how proud she was that we were keeping the Gene Kelly legacy alive, and that he would be proud of us too, for showing it was OK for guys to dance." Ore: "It was amazing, that kind of praise is the highest honour you could ever dream of. It's an out-of-body experience for me right now, it just beggars belief."
That must have made your brother, [fellow Strictly pro] Kevin, pleasingly jealous, Joanne? Joanne: "He must be feeling nice at the moment, because he actually tweeted me to say we'd done really well, which wouldn't usually happen! He's going down, this year. Louise Redknapp is amazing, she's a great partner for him and I wish them all the best… other than when it comes to beating us."
Do you now feel like you could win the series? Joanne: "It's a very strong competition this year, but I do think we have a chance. Ore is doing incredibly well for someone who has never danced before and every week we're going further up the leaderboard. I don't want to put pressure on Ore, but I think he's a contender." Ore: "Jo is the professional who knows about winning dance competitions. I'll let her do the competitive bit and just hang off her coat tails."
How intense is training at the moment? Joanne: "Well this guy doesn't like to sit down at all, so there are no coffee breaks, or pauses to play with his phone, it's great. We do eight hours a day and we only stop for lunch. That's why I get emotional when it goes well on a Saturday because we've worked so hard and to see that paying off is really special.
"We're going to keep putting in the work, we still need to improve Ore's hip action in the Latin dances and his posture and frame for the ballroom routines. It's different to dancing with Scott Mills – then we were just working to make a routine that resembled a dance!" Ore: "There is constant fatigue, I wake up tired, but it's like running a marathon – you only feel the pain if you stop. I'm on the best, sparkliest treadmill there is and I don't want to get off."
How much dancing had you done before Strictly, Ore? Ore: "I'd never danced a step, I didn't even have a wedding dance. I asked my wife, Portia if she'd like to learn a couple of steps at a dance studio before the big day, but she rejected the chance because she thought it was cringy. So we just rocked backwards and forwards. As our first anniversary approaches I'm hoping she regrets that moment and will learn to dance with me.' Joanne: "We'll teach her!"
What made you sign up for Strictly, Ore and how does the experience compare to your expectations? "I've loved the show for 14 years and I've watched every single episode of every series. I've learned the dances almost by osmosis! I feel like I'm living the dream, it's one of the highlights of my life."
Ore, your birthday is in November. Will you be allowed a day off? Joanne: "Absolutely not!" Ore: "It's on a Thursday, so I've got no chance [laughs]. I'll be lucky if I get a slither of cake. If we're still in the competition I'll be on the train to Blackpool, which is the best place to throw a party. That would be incredible…"
Congratulations Joanne, on your lead role in the musical Thoroughly Modern Millie, which tours the country next year. Is there a role for Ore? Joanne: "Well I haven't heard him sing yet. We put a bit of tap dancing in the Singing in the Rain routine though, so he has a few steps. It's possible..." Ore: "The reality is I don't know how long this Strictly experience will last, but I'd love to keep dancing with Jo because I'm having so much fun. If there was a part in a show that would be a bonus."
Strictly continues on BBC1 on Saturday and Sunday
Get the latest updates, reviews and unmissable series to watch and more!
Thank you for signing up to Whattowatch. You will receive a verification email shortly.
There was a problem. Please refresh the page and try again.