Holby City legend Paul Bradley on his return: 'Elliot Hope has an ulterior motive... There are twists!'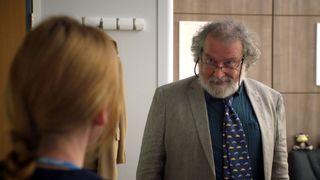 (Image credit: BBC)
Actor Paul Bradley on reprising his role of Holby City legend Elliot Hope and what it means for Jac Naylor…
You know it must be a special occasion when stony surgeon Jac Naylor almost bursts into tears in Holby City.
Next week the medical drama celebrates it's 1000th episode with the arrival of a very special guest - iconic doctor Elliot Hope.
Characteristically dishevelled Elliot turns up clutching flowers for Jac, who's preparing to perform her 1000th heart transplant. It turns out Elliot's surprise visit is thanks to director of nursing, Adrian 'Fletch' Fletcher, who has invited him the unveiling of a plaque for Holby City Hospital's 150th anniversary.
But there's more to Elliot's return than meets the eye!
Here Holby City star Paul Bradley
(opens in new tab)

, 64, reprising his role as the loveable medic, exclusively tells us more…

We're delighted Elliot is back. Did you take much persuading to return?

Paul Bradley: "It came about quite bizarrely. I was doing a play at the beginning of the year and Holby's executive producer came to see it. He asked me how things were going. It hadn't been a great year and I told him I'd really like to go to the rugby world cup in Japan but couldn't afford it. And he said 'well you could if you came back to Holby for a bit!' So I thought, why not?"

How have you found being back?

PB: "I was a bit daunted at first. I didn't say I'd never go back, and they didn't kill Elliot off, but I thought it had come to an end and I'd left it behind me. Also, I've not done any telly for a while. But when I got back to it, it was just great!"

WHAT IS ON TONIGHT? Check out our NEW and improved TV Guide

What were the best things about returning?

PB: "It's such a lovely place to work. I forgot how hard the schedule can be but also how brilliant the people are. Holby was a big part of my life, and it was huge pleasure to re-experience it again."

What can you tell us about Elliot's return?

PB: "Elliot's back for the 150th anniversary of the hospital. And because it's the 1000th episode they've pulled out all the stops! The first time you see Elliot his face is on Jac Naylor's shoulder, as he hugs her. It's lovely. I have a lot of scenes with Rosie Marcel, who plays Jac, and she's just brilliant. There are real fireworks in the story and it gets pretty hairy!"
Fireworks? We need to know more…
PB: "The day we filmed the plaque unveiling was the hottest day of the year and there we all are in our big coats pretending it's November 5th and trying to look cold! They used real fireworks for the story so we had to watch where we stood. Hugh [Quarshie, who plays Ric] and I were severely ducking during the display, but no actors were hurt!"
How long are you back for?
PB: "I'm back for five episodes. There's an ulterior motive for Elliot's return to Holby and the hospital in particular. Something I can't tell you about! He's not just back for the anniversary… But he gets sidelined from his own problems as he tries to deal with Jac's. He's very close to her and can see signs that she's not herself… He's had his own mental health problems and knows something is not okay. It's an intense and vital storyline for her. There are loads of twists and turns!"
MORE: Jac is rattled when her ex begins a custody battle for daughter Emma (opens in new tab)
Did you do anything special to get back into character?
PB: "I always think of my father when I play Elliot. He was a doctor and ran a GP practice in Ealing. He was a very caring man and much loved by his patients. He's my role model for Elliot. They have the same kindness and patience. None of Dad's six children became doctors but I think he would have been happy that I eventually became one! I used to have his wooden nameplate on my dressing room door."
Could you be tempted to return more permanently?
PB: "It's been fantastic but I'd have to think about it. I played Elliot for ten years [2005 to 2015]. It felt like ten minutes because you're never bored. But it's hard work and gets harder as you get older. Learning lines is like throwing mud at the wall. As you get older the wall gets less sticky! But it's a lovely place to work and I left thinking, I quite enjoyed that!"
What do you get recognised for most?
PB: "It depends on generations. Some people will say it's Nigel from EastEnders, others know me as Elliot. People often say 'I loved you in Casualty' and I have to tell them I was only in it once!"
What's next for you?
PB: "I'm playing Jim Hacker in Yes Prime Minister at Theatr Clwyd – no medical jargon, just lots of political jargon! Then I'm playing Captain Hook at Tunbridge Wells in Peter Pan (opens in new tab). I love panto, it's unique. I love its traditions; things like the baddie can only enter stage left!"
Finally… Did you make it to the Rugby World Cup?
PB: "No, in the end I didn't go to Japan. But one of the Holby writers must have heard the story because, in a really nice piece of writing Elliot uses the Japanese phrase 'Kintsugi'. It means if you break a pot you don't try and hide the repair. You make a feature of it using gold and paint to show it's been broken. It's a great metaphor, and that's as big a clue as I'm going to give you!"
Watch Paul Bradley's dramatic return to Holby City as Elliot Hope on Tuesday 05 November at 8pm on BBC1
Get the What to Watch Newsletter
The latest updates, reviews and unmissable series to watch and more!
Writer for TV Times, What's On TV, TV & Satellite Week and What To Watch
With twenty years of experience as an entertainment journalist, Elaine writes for What's on TV, TV Times, TV & Satellite Week and (opens in new tab)www.whattowatch.com (opens in new tab) covering a variety of programs from gardening and wildlife to documentaries and drama.
As well as active involvement in the WTW family's social media accounts, she has been known to get chatty on the red carpet and wander into the odd podcast.
After a day of previewing TV, writing about TV and interviewing TV stars, Elaine likes nothing than to relax… by watching TV.