Paul Hollywood: 'They take bread-baking to another level on Bake Off'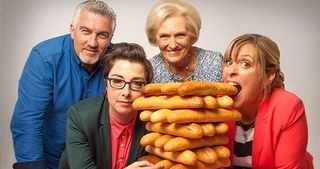 (Image credit: BBC/Love Productions)
There's a distinct dollop of fear amongst the flour in The Great British Bake Off (BBC1, Wednesday) tent because it's bread week - or nemesis week - as it's become known to the foursome serving up our weekly fix of bunting, buns and banter.
And the reason? Old steely blue eyes, judge Paul Hollywood, of course, who spent the best part of 25 years pre-Bake Off perfecting the humble loaf, making his career out of artisan bread...
How do you think the contestants are feeling about bread week?
Paul Hollywood: "They are probably worrying about it because they're moving into the area which I suppose I know a little bit about."
Sue Perkins: "Everyone's terrified of bread week, Pauly, and you cultivate that. You love it! Breaking them!"
Paul: "No, as a challenge within baking, bread is one of the hardest things to master. That's why they're always so scared of it."
Mary Berry: "Nerves or not, I think it's actually thanks to Paul that we have such fantastic breads on Bake Off."
Baking bread has become very popular again...
Mary: "In series one some contestants didn't have the balance of being able to bake cake and bread, because few people used to make bread in their homes. Buns and lemon drizzle, yes - bread, no. It's because of Paul and his teaching on Bake Off that breadmaking's on the rise."
Paul, you're known for delivering some brutal judging. Have you always been like that?
"Look, I just judge what's on the plate. It's not a personal thing. I don't feel sad for them. I don't feel happy. I judge them on a professional level and have done from series one. I watched the first series a few months ago and my judging style hasn't changed at all."
This week's showstopper is for the bakers to create edible 3D bread sculptures and one of them leaves you almost speechless.
"That showstopper was a game-changer for me, one of the most impressive things I've ever seen."
It all looks pretty darn impressive to us humble viewers back home...
Mary: "Yes, they're a pretty adventurous bunch this year. They've watched five series before and know they've really got to stretch themselves."
The contestant's passion is why millions of viewers devour Bake Off every week, mesmerised by the way the bakers put their heart and soul into those ovens and they are often brought to tears if it ends in disaster...
Mary: "Baking's terribly important to them – and to the country for that matter. The Federation of Bakers has told me that the intake of baking schools across Britain has risen by 17 per cent. Before, people would say, 'Oh, you don't want to go into baking.' But now, thanks to Bake Off, it's become acceptable and parents are proud their children are going to baking schools."
So how do the contestants survivie nemesis week?
Paul: "It's a good watch. They come up with some mad stuff, which is great. They take bread-baking to another level."
Get the latest updates, reviews and unmissable series to watch and more!
Thank you for signing up to Whattowatch. You will receive a verification email shortly.
There was a problem. Please refresh the page and try again.