Pete's Peek | The sleazy Satan's Baby Doll is a perverse pleasure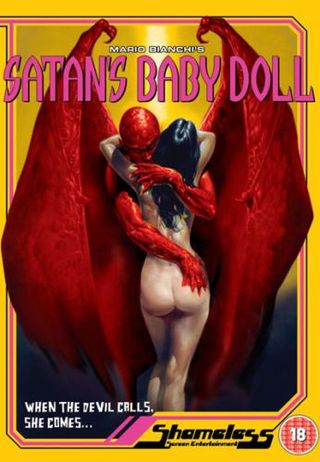 This slice of Euro-sleaze has it all: gloomy castle filled with sexually depraved freaks; black magic; rotting corpses; zombies, and one very sexy nun.
Jacqueline Dupré (no relation to the famed British cellist) plays teenager Miria who, haunted by the spirit of her murdered mother Maria, triggers a wave of sexual and psychological molestation on the inhabitants of her family's castle.
Satan's Baby Doll was actually a pornographic remake of the sleazy 1979 Italian Gothic horror Malabima: The Malicious Whore. Horror veteran Mariangela Giordano, who played a nun in the original, dons the habit again here playing carer to Miria and a wheelchair bound mute uncle. Lying naked in the family crypt is Swedish porn queen Marina Hedman (she's also in Shameless's deliciously bad Beast in Space, out on 26 July), who plays Miria's dead mum.
From beyond the grave, the nymphomaniac Maria can't resist continuing her lustful, perverse encounters while seeking retribution for her untimely death. After knocking off her former lover, the family's drug-pedalling doctor; a creepy cleric who wants to exorcise her vengeful spirit; the mute uncle; and her husband, the stage is set for her ultimate plan...
Lust, murder, porn and necrophilia, this mad, bad slice of Italian smut and weirdness has cult firmly branded on its sleeve and gets the full Shameless treatment on DVD, featuring a rebuild based on the original German XXX version (these inserts are very scratchy, but do lend the film the right amount of sleazy charm - especially the alternate opening).
The special features also include a collector's poster of the original artwork for the film; Mariangela Giordano biography; alternate scenes; theatrical trailers; and optional English subtitles.
http://www.youtube.com/watch?v=2EyonO5QMIo&fs=1
Get the What to Watch Newsletter
The latest updates, reviews and unmissable series to watch and more!