Peter Kay's Car Share returns for a new series!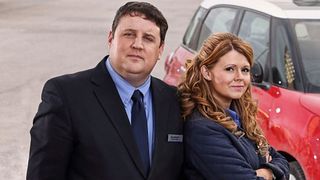 Motorists in the North West should look out for trouble on the roads as Peter Kay and Sian Gibson will be driving about in a new series of the BBC's BAFTA-winning comedy Car Share in 2017.
The pair played work colleagues John and Kayleigh who found themselves united in their journey to work by a company car share scheme.
The first series ended with a 'will they won't they' cliffhanger moment between John and Kayleigh as their chemistry grew and it looked like romance was on the cards.
The soundtrack to their friendship - courtesy of fictional local radio station Forever FM - was sealed with a mix CD from Kayleigh to John, but what will become of their relationship in the new series?
'What a joy to be working on the second series of Car Share with the wonderful Sian Gibson,' says Peter Kay. 'The success of the first series has been completely overwhelming.'
The record-breaking first series premiered exclusively on BBC iPlayer in 2015 before being repeated on BBC1. As a box set, it received three million iPlayer requests in its first four days alone, before the series came to BBC1 and gained six million viewers and huge critical acclaim.
BBC controller Charlotte Moore says: 'Car Share broke the mould, innovated and took risks in comedy on primetime BBC One - a show that epitomises what the channel is all about. I can't wait for the Bafta-award-winning series to return, and discover where Peter Kay and Sian Gibson take those gorgeous characters that the nation fell in love with.'
Get the latest updates, reviews and unmissable series to watch and more!
Thank you for signing up to Whattowatch. You will receive a verification email shortly.
There was a problem. Please refresh the page and try again.