Fresh horror for Phelan's victims in tonight's Coronation Street - with fans predicting a gruesome return from the dead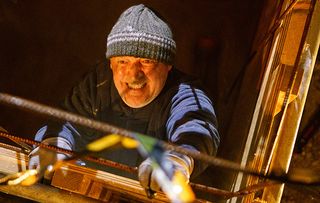 (Image credit: Mark Bruce)
Sorry Eileen, it's not over yet.
He may have met his gruesome fate last week, but that's not going to stop murderous Phelan from wreaking more havoc on Wetherfield's residents.
A trailer for tonight's (April 2) episode on the Corrie YouTube channel see police appear on the cobbles, eager to find out more about Corrie's most notorious villain - and expose some shocking truths, too.
https://www.youtube.com/watch?v=F4i6DfkvKrA
Coronation Street residents are left in shock as the extent of Phelan's crimes are revealed. Gary Windass, in particular, is sure to take the news hard, after his mother, Anna, was framed by the villain and subsequently arrested.
And of course there's poor Eileen, who will now have to prove her innocence and that she wasn't complicit in his crimes, as well as processing Phelan's horrifying actions.
Sue Cleaver, who plays Eileen in the show, said: 'I don't know how everybody is going to respond to her and how's going to move on from this difficult period in her life. It's going to be difficult I imagine.'
But while Pat's reign of terror looks certainly set to continue after his death, some Corrie fans are predicting he'll be back to wreak havoc in the flesh.
A popular theory is the Phelan will be back on the Street - and take the other characters hostage.
One posted: 'I think it's possible (and I'm hoping) he will come back to the street, take Eileen and others hostage, Gary and Nicola will be involved. Personally I'd love it if he took everyone in the Rovers Return hostage.'
Another added: 'Maybe he captures Eileen, Gary and Seb and then hears that Nicola is in labour and he has to decide whether to kill all the people who betrayed him or see his Grandchild being born.'
A third chipped in: 'As far as Eileen is concerned he's gone but of course he isn't. He's lurking in the ginnel after dark spying on Eileen, Gary, Seb, Tim, Liz, etc There's a celebration in the Rovers and all Phelan's enemies are in the pub, Phelan makes his entrance holding them all hostage and threatening to douse the place in petrol and everyone inside.'
Despite being one of the most evil characters Corrie has ever seen, fans are actually rooting for Phelan to return.
One tweeted: 'Just caught up with Corrie…. still holding onto Phelan being alive!!! Please don't be dead!!!'
Another said: 'I seriously wouldn't be surprised if Phelan was still alive! Phelan is literally immortal remember, he's alive, planning something!'
And a third added: 'See if Pat Phelan doesn't come back ALIVE, tap Eileen on the shoulder and whisper 'alright love', I'll be very disappointed.'
Stay tuned...
Get the latest updates, reviews and unmissable series to watch and more!
Thank you for signing up to Whattowatch. You will receive a verification email shortly.
There was a problem. Please refresh the page and try again.