This Morning chef Phil Vickery reveals to us his Christmas cooking tips!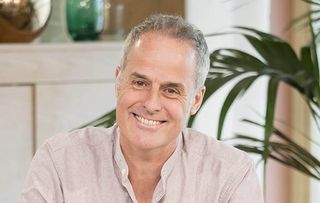 TV Times asked This Morning chef Phil Vickery how to make Christmas cooking a stress- free zone. Here he shares his top tips and reveals what festive plans he and his wife, Fern Britton, have this year
Feeding friends and family at Christmas can reduce even the most competent cook into a frenzy of stress. As the countdown to Christmas Day feasting begins we enlist the help of This Morning chef Phil Vickery.
This weekend is traditionally known as "Stir Up Sunday", the last Sunday before advent when Christmas puddings were made and families would take a turn stirring the mixture whilst making a wish.
Here Phil, 57, who is married to presenter Fern Britton, gives TV Times his top tips on getting ahead and reveals what will be on the menu for his own festive family gathering….
Phil Vickery gives his Christmas cooking tips...
TV Times : When is the ideal time to make a Christmas cake?
Phil Vickery: "When I was working as a young chef we used to make our cakes at the end of September or early October to ensure they were really moist. You don't have to do it that early but the golden rule is to soak your fruit overnight before adding it. If you don't soak it, the dried fruit starts re-absorbing the moisture from the cake and dries it out."
TVT: So, what is the Phil Vickery top tip for making the perfect Christmas pudding?
PV: "I like mine quite light so I don't pack in too much fruit. I like ones that you can cut a nice wedge through, not ones that are so packed of fruit they fall apart when you slice into them.
"I go easy on the fruit, add a little bit more flour, plus almonds to give a nice texture and I don't put in too much alcohol. A lot of people overdo it. I also add grated carrots which add texture and give the pudding a lovely golden colour. I used to add coins when the kids were little but I'm past doing that now!"
TVT: What else can we make in advance?
PV: "If I was making mince pies I'd make them now but instead of putting them in the oven, you freeze them in the tray when raw. Once hard, transfer them into a bag and leave them in the freezer. When you need them you literally take them out, pop them back in the tray and stick them in the oven. You can get them all done now and they will be absolutely perfect. I tend to buy my mince pies these days because you can get such delicious ones from the supermarkets."
TVT: What Christmas traditions have you grown up with?
PV: "My mum always made her own Christmas cake, I've still got the ornaments that she used to put on the cake; A little Father Christmas on a sleigh and a tiny Christmas tree. And she'd always put a ribbon round the edge. My brothers and I would scrape the bowl when she made the icing and be fighting over who got the most.
"My first mother-in-law used to get Yorkshire puddings, cook them in the oven until they were really crispy then spray them gold and put them on the Christmas tree. Even to this day I can't believe she did that!"
TVT: What are your top tips to avoid a Christmas Day meltdown?
PV: "My Golden Rule is prepare as much as you can the day before. I roast all my potatoes and cook the parsnips, carrots and sprouts on Christmas Eve then heat them through the next day. Alternatively, you can have the vegetables all chopped up and ready to go the day before. The other golden rule is do NOT have a glass of alcohol until the meal is on the table otherwise I guarantee something will go wrong which is what happened to my This Morning colleague, Ruth Langsford last year!"
TVT: What are your plans for this Christmas?
PV: "We're going to have a big family Christmas. Fern's been away on tour with Calendar Girls but gets back in early December so we'll be at home together in the run up. We'll chill out, relax and I'll try and be a helpful, considerate husband! Fern organises all the presents and decorations and I'm in charge of all the cooking. Our paths don't cross!"
TVT: What's your festive meal plan?
PV: "We often like a curry on Christmas Eve and then on Christmas Day it will be very traditional with turkey, all the usual vegetables and trimmings. Fern always eats one sprout on Christmas Day. Quite bizarrely she likes frozen sprouts but she doesn't like fresh ones. We'll have Christmas Pudding and then a nice bit of Christmas cake later on.
TVT: Did you like getting your own children involved with preparations when they were little?
PV: "Yes, definitely, they'd be around the kitchen and liked watching what I was doing. I'd sometimes get them involved with things like peeling the carrots or potatoes, or helping with the stuffing so they got an idea of the whole meal."
TVT: Are you fan of making Christmas biscuits?
PV: "I sometimes make Lebkuchen, which are classic German gluten-free gingerbread. They also freeze really well but I tend not to freeze icing, because it weeps when you de-frost it."
TVT: Do you like all the Christmas extras like bread sauce and cranberry sauce?
PV: "I hate bread sauce! It's like eating wallpaper paste. I've never understood it. The origin of bread sauce dates back to medieval times when people used to roast meat and put a tray underneath with bread on it. All the juices would drip down into the bread and they'd mash that up. And I can't stand brandy butter either. To me it's just like a load of fat with sugar in it. I've never been a fan."
TVT: Can too many home chefs spoil the Christmas broth?
PV: "Definitely, it's a bit like barbeques, everyone's an expert! You really don't need everyone piling in at Christmas, chucking their two-penneth in. It's likely to all go a bit Pete Tong. You've got to focus and keep everyone out of the kitchen if they're not being helpful!"
See Phil Vickery on This Morning, weekdays 10.30am to 12.30pm, ITV
Get the latest updates, reviews and unmissable series to watch and more!
Thank you for signing up to Whattowatch. You will receive a verification email shortly.
There was a problem. Please refresh the page and try again.