Plumber Joseph Valente wins The Apprentice 2015 with clever pitch about smart technology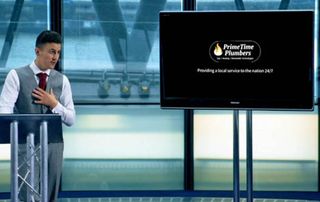 Twelve weeks and 18 candidates later, The Apprentice final was a contest between plumber Joseph Valente and dating app entrepreneur Vana Koutsomitis.
Or, as Lord Sugar put it: "I have to choose between fixing broken hearts or broken boilers."
And he went for the boilers, and Joseph's idea that he and Lord Sugar could be "the next big players in smart technology".
Amazingly, this was a business idea that Joseph worked up during the final task, with his team of past contestants: Gary Poulton, Brett Butler-Smythe, Elle Stevenson and Megrim Butaja.
Vana's team was: Richard Woods, Charleine Wain, Natalie Dean, Ruth Whiteley.
Their final task was to launch their business, the one they wanted Lord Sugar to invest in.
Joseph's was going to be all about renewable energy - solar panels - until he had a meeting with industry experts.
He was told that renewable energy was suffering because of government policy and that smart technology - such as running home heating systems with an app - "is more appealing".
Joseph quickly got "smart technology" added to his billboard and, well, a business was born.
He also, very cannily, got business cards from the experts he had met with.
"You've got more cheek than Kim Kardashian," Lord Sugar told him, when he heard about that later in the boardroom.
It was Joseph's passion that impressed the experts, too.
Joseph pitches his winning business plan
"I want to push my brand out of Peterborough [where he's based] into more cities. I plan to market it through property companies," Joseph said. "Plumbing will move into the space age of the human race.
"From the day I was expelled from school at 14, I knew I would do something with my life," Joseph said after his win. And, more than once, he had let Lord Sugar know that his autobiography - "What You See Is What You Get" - had been a big inspiration to him.
"I look forward to doing big things with Lord Sugar," Joseph added.
Vana had looked forward to that, too, but she just couldn't make the numbers work for Lord Sugar - or for the industry experts.
Her business plan was for an online dating app that gets users to play games that will match them with a date.
"It's dating meets gaming," Vana said in her pitch to the industry experts. "I'll be working with an Oxford Phd I call 'Doctor of Desire'."
Vana couldn't persuade Lord Sugar to invest in her dating app
But one expert felt that online daters prefer to find a good-looking date than a smart one.
And Lord Sugar's £250k investment wouldn't be enough to launch the app and generate revenue.
"Yes, I will need more capital," Vana conceded in the boardroom… And, really, it was all over for her then.
But she persisted… "I think you [Lord Sugar] would rather have a small piece of a big pie than a big piece of a small pie [referring to Joseph's business]. My business will make a bigger impact on the world."
But she was wrong about what Lord Sugar wanted.
"Technology has been my best friend for 50 years," said Lord Sugar. "But maybe it's time for a change. So, Joseph, you are going to be my business partner."
Get the What to Watch Newsletter
The latest updates, reviews and unmissable series to watch and more!