Posh couple reveal marathon drinking session while filming Gogglebox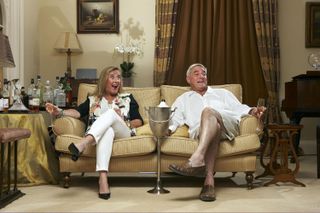 A posh couple who have been a hit with their boozy observations during Channel 4 hit Gogglebox have admitted they were drinking for more than 12 hours by the end of one filming session.
Steph and Dom Parker have won an army of fans who have tuned in to watch them knocking back wine and casting judgment on an array of TV shows on the programme which turns the cameras on viewers.
And in an interview with Radio Times, the duo have confessed that one celebrated scene in which 49-year-old Dom tumbled off the sofa was the result of an all-day booze-up.
He said: "We went out for lunch at about 12.30, came back at six and carried on in our normal way. We finished filming that night at 1.30am, so we'd been partying for 12, nearly 13 hours.
"Steph came in a bit too enthusiastically for a kiss and tipped the bloody sofa over," he added.
The couple, who have been married for 18 years, said their behaviour would be more restrained if their two children were not away at private schools, but they are glad people find them entertaining.
Steph, 47, said: "Ours is very honest behaviour, with no censoring and no filtering.
"We'd behave very differently if the children were here. But you get the honest, brutal truth from us when we sit down and relax.
"After a few glasses of wine we become more verbose, obviously... It's quite a hoot. We're enjoying people's responses and it's lovely to know that we've made people laugh."
Get the latest updates, reviews and unmissable series to watch and more!
Thank you for signing up to Whattowatch. You will receive a verification email shortly.
There was a problem. Please refresh the page and try again.