Ray Winstone has joined the cast of the rebooted Wombles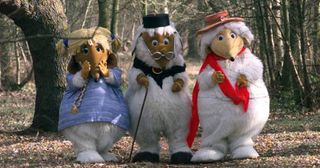 (Image credit: Adam Butler/PA)
'Hardman' Ray Winstone will be the voice of Tobermory in the new series of the classic children's show The Wombles
Ray Winstone will be lending his voice to a new animated reboot of The Wombles.
The 59-year-old will be joining original cast member Bernard Cribbins in the big-budget remake of the classic children's show, about a family of litter-picking creatures who live on Wimbledon Common.
"Bernard Cribbins is doing Great Uncle Bulgaria, and Ray Winstone is doing Tobermory," series creator Mike Batt said at the Children's Media Conference in Sheffield, the Guardian reports.
Unsurprisingly given Ray's 'hardman' reputation, Mike said: "People keep asking if it's going to have that lovely parochial, cuddly quality that the Wombles are famous for."
"We have to bring it into the modern century, but do we have to speed it up, do we have to cut every second? Yes, we have to make it palatable to the modern audience, but we can do it in other ways."
Tobermory is an engineer and inventor, known for being gruff but with a good heart, so perhaps Ray is not as unexpected a casting choice as first thought.
Mike said that the show was going 'twice over the expected budget' as they seek to make it look like a Pixar film.
The reboot was meant to screen on Channel 5 last year, but has not yet found a new home.
Get the latest updates, reviews and unmissable series to watch and more!
Thank you for signing up to Whattowatch. You will receive a verification email shortly.
There was a problem. Please refresh the page and try again.